How to Take Food Pictures
Photography Tip: Take Good Food Photos
I love snapping photos of food, especially if I'm visiting a special restaurant, on vacation, or eating something completely delicious. Yeah, I know: cameras at the table are usually a no-no. But for me, food photos are an easy way to remember where I was, what I was doing, and how I felt at any time. While I'm usually the girl pulling out my iPhone at restaurants trying to snap a pic,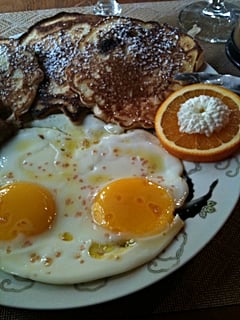 I've also been known to seriously photograph food from time to time. Getting a good shot can be tricky, though. Between proper lighting and angles, if you don't get it just right, your photograph could end up an unappealing mess.
Photography site Photojojo has a great list of tips for photographing food beyond the quick camera phone snap, tips like, "Zoom in: Get in as close as you can. Use the macro setting on your camera if it has one. Fill the frame with the food," and, "Flash photography is too harsh for food's delicate sensibilities. It flattens everything out and makes for unappealing shiny spots." Check out the full list of tips on its site — and rest assured that not all food is photogenic. I refer you to its 10th point: "Some things will just never look delicious, no matter how hard you try." Judging by the photo to the left, I have a lot to learn!
May is National Photography Month, and in honor of the occasion I'm serving up a different photography tip, trick, or app every weekday in May, so please share your successful shots! Our Cool Capture group is not only a place to post your favorite pics, but you could also win a CanvasPop Print in our Cool Capture contest!