How to Take Good Nature Pictures
5 Ways to Make Nature Photos More Memorable
Whether you're in the mountains, a beach, or the forest, capturing the beauty of nature can be a difficult task. The grandeur of unusual plants, rolling hills, and tall trees can be lost without proper framing, good lighting, and the right camera settings. Avoid taking dull pictures of scenic hike finds with our five tips.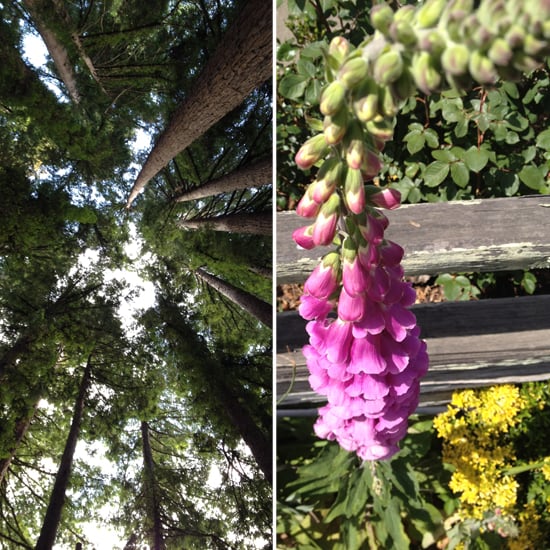 Alternate between landscapes and close-up shots: While walking along a trail, shift between taking landscape shots that encompass the whole environment and close-up shots of wildlife, interesting plants, and other small details.
Take interesting landscape shots: The key to a good landscape shot is composition. For the easiest setting placement, simply program the camera to landscape mode. Then find an object to focus on that breaks up the monotony of the landscape. Alternatively, use natural lines to draw the viewer into the shot, as seen in the photo of the redwood trees to the left. The viewer is pulled into the shot through the circular pattern of the tree trunks.
Learn more close-up tips and about wide/macro lenses.
Find the perfect close-up: Use the macro mode (the flower icon) to take close-up shots of wildflowers, insects, or leaves. Manually change the camera's focal point to control the viewer's eye. The above photo on the right draws the viewer's eye to the attractive pink blooms of the flowers by blurring the green buds at the tip and using the natural curve of the flower as a lead to the focal point.
Take it wide and/or macro: Sure, a standard lens will get the job done, but to take the photos to the next level, experiment with a wide-angle lens; it closes the gap between the foreground and background, giving landscape photos an exaggerated, attractive quality. Macro lenses blow up subjects to make them appear greater than life size (like a bee or a small wildflower). You don't need a DSLR for macro shots; the Photojojo Wide/Macro Phone Lens ($20) magnetically snaps onto an iPhone and lets you take clear, crisp close-ups.
Be playful: Snap from different angles, and frequently change up your shooting position. Take pictures from down below or hover above subjects. Don't limit yourself to just taking one photo of each view or subject. The best photographers experiment and take hundreds of photos of the same view in hopes of capturing one stunning, memorable shot. Digital photos encourage you to be shutter happy, so snap away!
What techniques do you use to capture nature at its finest when exploring the great outdoors?