How to Track Your Weight Online
3 Ways to Monitor Your Fitness Level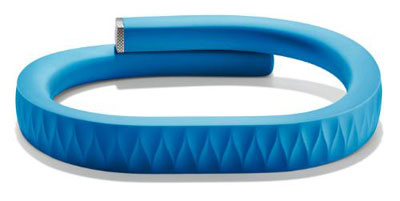 Summer is in full swing, and if you're still trying to shed the last of your Winter weight, don't go it alone. These three tools can help you track calories in and out while awake and even sleep (in some cases), which will not only help you drop pounds, but get improve your overall health.
Up by Jawbone
This newly announced fitness bracelet by Jawbone (seen here) stylishly monitors your movement, activity, sleep patterns, and nutrition in order to get a holistic view of where your calories are being burned, or more importantly, where they aren't. There will be a mobile app to use in conjunction with the bracelet so you can sync and see your totals on the go. The Up should launch sometime later this year with price TBA.
See a few more tools after the break.
BodyMedia Fit Armband
BodyMedia Fit Armband ($249 + monthly fee) tracks your calories burned, steps taken, exercise times, and food intake in order to help you drop pounds smartly. Wearing the band for up to 23 hours a day, you can program how much weight you want to lose and how quickly. Insert your stats (body weight, height, and how often you normally work out), and BodyMedia will come up with goals for you to hit each day based on your BMI, calorie intake, and activity level. You can see all of your daily results in graph form, which makes it super easy to tell where you need to work harder, and you won't have to do any crazy math to figure out your calorie deficits — it's all done for you! Best part — the BodyMedia Fit Armband connects with your iPhone and Android devices over Bluetooth and the BodyMedia app, so you can update your stats on the fly.
Nike+ Sportwatch GPS
Are you a running fanatic? The Nike+ Sportwatch GPS ($200) tracks your run times, distance, calorie burned, and location (thanks to its built-in GPS) and compiles it all for you to see in visual form on the watch and on your Nike+ page online. There's an awesome "heat map," which shows you where other Nike+ runners are working out right now (more people are represented in reds while smaller crowds are represented in yellow), so you can join in or get away. This is perfect for travel, since you can see where all the popular running spots are in new cities.