How to Use Facebook Camera App
3 Ways to Use Facebook's New Camera App
The truth is about 96.5 percent of our Facebook experience is spent scrolling through pictures of last weekend's camping trip and Friday's happy hour. Now you can ditch the status updates and cut straight to the photos with the new Facebook iOS Camera app. Introduced today, it's billed as the photo-sharing hub for Facebook users. Separate from the standard iPhone app, we've broken down how to use Camera below.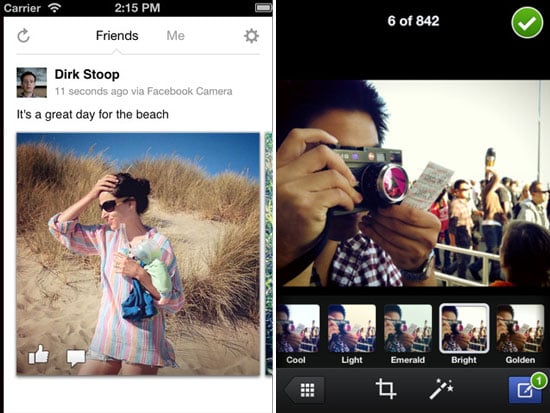 Browse albums — Get to the goods fast. Once the Camera app is launched, you can browse through friends' photos with a swipe and get a better view with a double-tap of an image.
Edit photos — Crop, edit, and filter photos within the app rather than uploading to a separate editing app, saving to the camera roll, and then uploading to Facebook. We know that tired drill.
Upload multiple images — The time has come to stop spamming your feed with individual mobile uploads at a time. Select two, three, or go crazy with 14 images uploaded at one time.
Does all this sound familiar? With Facebook's Instagram acquisition we've been waiting to see how the social sharing companies join forces — but that moment is still yet to arrive. Facebook says the filters and functions of Camera were built in-house, not using the Instagram resources. So yes, Camera is just one more handy photography app to add to your collection.