How to Use Google's Knowledge Graph
How to Use Google's New Knowledge Graph
In an effort to improve and smarten up search results, Google launched the Knowledge Graph today. Previously, Google's search algorithm matched a string of letters or keywords to websites containing those letters, but keywords often have deeper meanings than face value. Google created the Knowledge Graph in response to the need for a more intelligent search model that better understands the people, places, and things that users are looking for.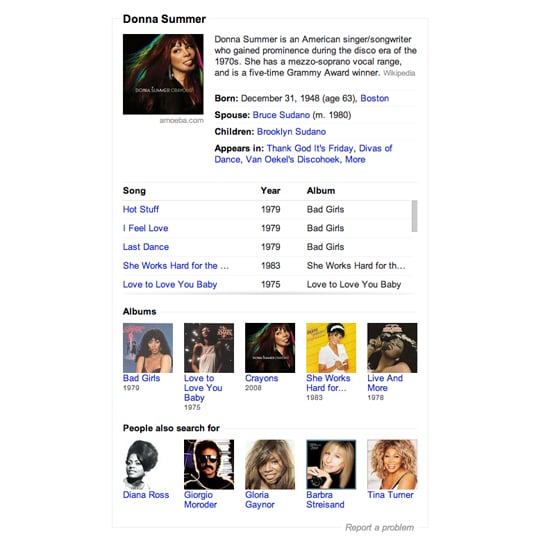 Intended to include more appropriate search results, the Knowledge Graph also includes an organized array of basic facts, maps, and pictures to enrich the results. We've outlined below the three points you need to know when using the Knowledge Graph:
What terms to use: As of now, the Knowledge Graph only pulls results for people, places, or groups (like bands). Type in terms such as "Wes Anderson," "Houston, Texas," or "The Strokes" to see the Knowledge Graph in action. Type in a longer query like "keyboard shortcuts for mac," and Google will return to its classic results page format.
Learn more about the Knowledge Graph after the break.
What's new on the results page: The biggest change is the panel next to the search results containing a picture or map of the search term, a short paragraph on the biography or history, and other relevant facts. For instance, search for "Donna Summer," and a picture of the late singer pops up, along with her biography and musical contributions.
How the search results break down: As for the actual search results, the big difference is the order in which the search terms are listed. Breaking news on the search term is listed first, followed by the official site, Wikipedia links, tribute/fan sites, Google images, YouTube videos, and finally other relevant search terms to help narrow down the search query. The only unsettling thing about Knowledge Graph is the obvious inclusion of Google products (Google News, Google Images, YouTube, etc.) on the first page rather than all sources and links from across the web.
How do you feel about Google's shift to intelligent, knowledge-based search results?