How to Use Twitter Lists
Make the Most of Twitter Lists: Essential Tips and Tricks
Twitter lists let tweeters create and subscribe to, well, lists of followers (#duh), but the true benefits of lists and how to maximize the feature to its fullest potential isn't all that obvious. How does one manage friends and stay on top of the latest going-ons worldwide on Twitter, you ask? Lists are the answer, and we've got the essential tips, tricks, and resources to get the max out of Twitter's most undervalued feature.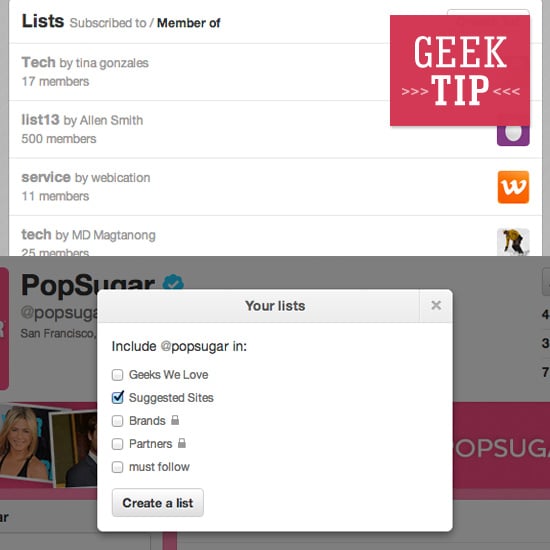 Why Are Lists Useful?
Two obvious reasons — First, because a list separates tweets of, say, your friend eating a hot dog for lunch, from tweets about breaking news and second, because it keeps you on top of those developments with a curated set of tweeters close to the action. Using lists to organize friends and subscribe to timely topics or particular themes are their most basic use.
Two not-so-obvious reasons — Did you know that you can follow a user's tweets without actually "following" them on Twitter? Or, that you can keep tabs of your favorite people in one place and privatize it? Because with lists, it's all possible.
Read on for more power tweeter pro tips for lists.
How to Create Lists
Every Twitter desktop client, like TweetDeck or Twitter for Mac, has slightly different buttons for creating lists, but on Twitter, you can add users to a list right from their profile page.
Create a list — Click the gear icon in the top right navigation bar and select Lists, or go to your profile page and click on the Lists tab on the left. Hit the Create List button and save.
Add a list member — Click on the profile icon next to the "Follow" button and select "Add or remove from these lists."
OR, alternatively, use Twitlistmanager — Twitlistmanager is a website that helps power tweeters easily add or remove friends. Connect it to a Twitter account, and manage away!
The Kinds of Lists You Should Create
Lists do have their limits. You can't send tweets to a list viewable only by members of that list, begin a list name with a number, or add yourself (or users who've blocked you) to a list, but you can create lists for these kinds of followers:
Good friends
Friends that live in your area
Funny/power tweeters
Bloggers you follow
Tweeters you'd like to follow less frequently
Tweeters to follow on a daily basis
Where to Discover and Find Interesting Lists
See what industry influencers are thinking, and get a different perspective of an event by following those who are close to or part of the action.
Where to Keep Track of Twitter Lists
Twitter clients — Apps for web and desktop let users interact skip the Twitter.com site, and also separate lists into a dashboard alongside the main Timeline stream. On the web, Hootsuite and Buffer rule, while on desktop, Twitter for Mac, and Bottlenose are widely adopted.
Flipboard — View your Twitter list in a beautiful, magazine-like format in Flipboard (free) for iPhone and iPad. The app pulls articles and images from the Twitter lists and displays it as a curated news home page.
What Twitter lists have you created or subscribed to?