How to Use iPad Mirroring
3 Ways to Use iPad Mirroring on a Big Screen
iPad mirroring, or connecting your iPad to an HDTV, is so easy to set up, it will become a technology anchor in your life once you have the right gear. All you need is an Apple Digital AV Adapter ($39) and an Apple HDMI to HDMI Cable ($19) to get started.
The AV adapter is designed with two plugs: one for the HDMI cable and an additional plug for your iPad USB charger, so you can simultaneously charge your iPad while you are in the middle of playing a game, watching a movie, or showing off your photos on a large screen HDTV. Check out the three examples of when iPad mirroring is a lifesaver and share your own tips in the comments.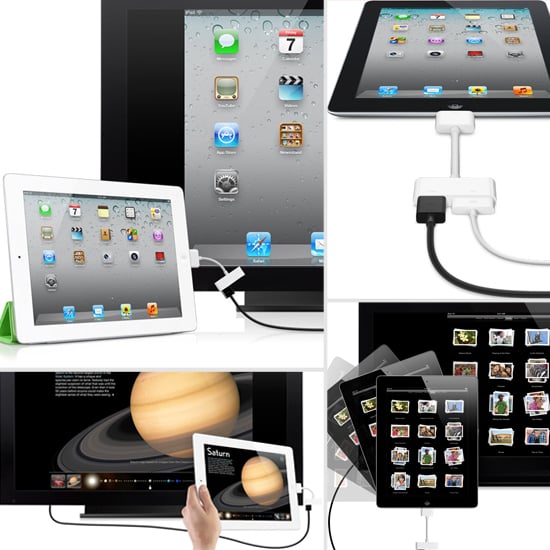 Classroom or boardrooms — Rather than clicking through a speech behind a computer or staying tethered to a projector, plug in your iPad to the TV to show off your presentation in front of a class or colleagues. Having the screen right in front of you streamlines your lecture, because it removes the tiresome need to look behind you to read and follow each point in your slideshow. Forgetting about temperamental computers may even help calm your nerves!
Family gatherings — Gather the familial troops around the TV and show off all the photos stored in your iPad iPhoto library in crisp, large images. Because the cables work on any HDTV or HDMI-friendly TV, screen, or projector, you won't have to spend aggravating hours trying to configure settings on a foreign TV.
Parties — Keep the whole room entertained by watching HD movies or playing video games from the iPad on a big screen TV. The cord renders everything from 3D games to HD video in real time, so you won't have to worry about weird lagging in audio or video. If you have an Apple TV, you can even forget the cords altogether and wirelessly connect via Airplay.