How to Watch TV Online
Recently Cut Cable or Satellite? Here's How to Stream Your Favorite Shows Online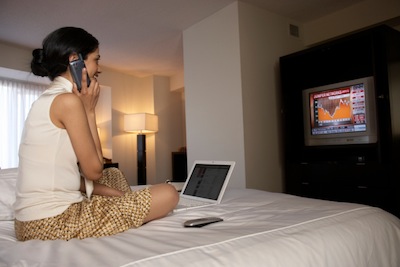 Nearly 200,000 Americans canceled their cable or satellite subscription this quarter. This loss comes as no surprise (since cable and satellite subscriptions have been heading downward all year), and while some folks are cutting back on monthly bills due to the down economy, some are moving to online streaming options.
If you're toying with the idea of canceling your outrageously priced cable subscription, check out these online streaming options that are just a mouse click away.
Netflix — With access via gaming consoles, TVs, iPhones, and Android smartphones in addition to computers, the popular classic doesn't look to be going anywhere despite the competition and controversial new pricing structure.
Hulu Plus — The $8 monthly subscription fee for Hulu Plus allows access to the most current episodes of TV shows and has an even larger catalog of movies available than its free Hulu counterpart. Available via iOS, Android, select gaming consoles, Samsung TVs, and computer systems.
Blockbuster Total Access — Pricing models give customers the option to rent DVDs for home delivery with a subscription plan for $10 or $15, choose to rent DVDs without subscriptions, or stream films online on demand.
For those who love the freedom of choice, check out more streaming options after the break.