Hugo Chavez Invites Fidel Castro To Join Twitter
Hugo Chavez Wants Fidel Castro to Join Twitter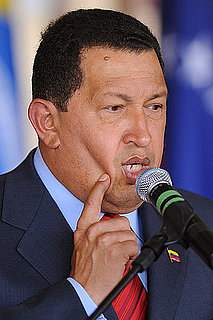 Venezuelan president Hugo Chavez recently joined Twitter, and now he wants other similar leaders to join him. Apparently, the president's move was a surprise, considering he recently called the service a "tool of terror."
Only 30 percent of the residents of his country have Internet access, but Chavez says he will use Twitter to spread his message of revolution to his nearly 120,000 (and counting) followers. He then invited Bolivian President Evo Morales and Cuban leader Fidel Castro to join Twitter, too.
Chavez is certainly not the first political leader to use the service, but he may be one of the most controversial. President Obama has a Twitter account, though he admits to not writing his own tweets. But Fidel Castro on Twitter? That would be . . . interesting.