Human Anatomy App
How Does the Human Body Work? Tinybop Demystifies Our Anatomy
Why do we smell or daydream? How do our brains learn new things? There are lots of systems and processes at play to make our human bodies work the way they do — and a new iPhone and iPad app called The Human Body ($3) breaks it all down with delightful illustrations and fun, interactive games.
Play with detailed models of the heart, brain, stomach, and more body parts, and learn what each organ is called in over 50 different languages.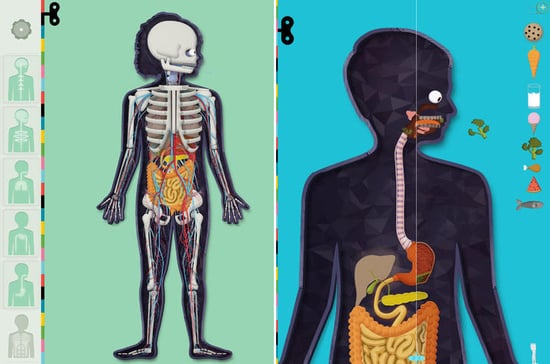 The app was built by Tinybop studio, which launched a new series of mobile games called "The Explorer's Library," of which The Human Body is the first. The apps are designed to help children understand the world around them, and that's certainly true of The Human Body.
Nervous, skeletal, respiratory, circulatory, digestive, and muscular systems are animated and explained with such clarity that the app is a great exploration of human anatomy for adults, too. The Human Body comes with a handbook companion that explains each part of the body in greater detail, and provides exercises that work in tandem with the app.
Parents can take the interactive learning a step further by using the recording mode, through which parents and children can ask each other questions. The Parent's Dashboard saves these conversations right in the app.
Curious about these complicated machines we live in? See The Human Body by Tinybop in action below, download the app, and let us know what you learned about your own anatomy.