Hunger Games Internet Explorer
All Catching Fire Internet Finds Now Lead to The Hunger Games Explorer
We know a thing about taking movie/TV show fandom seriously; you want to hear what other fans love about the same characters and need instant access to the latest news or trailers. The Hunger Games: Catching Fire doesn't hit theaters until Nov. 22, but fans are already reblogging, starring, and analyzing every piece of news and picture taken from the set. Today, everything social media has to offer on the world of Panem has been centralized in one interactive online hub, The Hunger Games Explorer.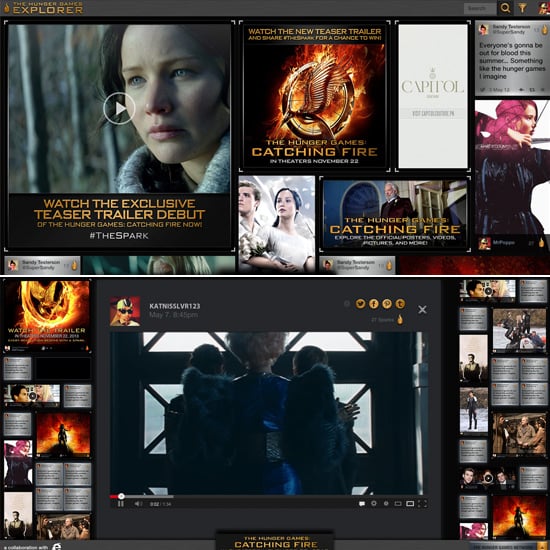 A partnership between Lionsgate, the studio behind the dystopian film series, and Internet Explorer, the HTML5-powered site pulls in global fan content from social networks Facebook, Twitter, Pinterest, YouTube, Tumblr, and even Google+. Official updates from the studio like cast photos and videos will make their world debut first on The Hunger Games Explorer.
The HTML5 interface was designed specifically to work with the touch screen of Windows 8 hybrid computers on Internet Explorer 10 — you can swipe through tweets and tap to like a new GIF or to comment on a YouTube video — though the site will work just fine on all other computing platforms as well.
Look for official content uploaded weekly to the site, which starts now with the latest Catching Fire trailer premiering online in conjunction with its first view at the MTV Movie Awards.