The Internet has been completely freaking out over the reported leak of an iPhone 4G. Gizmodo has the exclusive images of the device, which it claims was left at a bar in Redwood City, near Apple's Cupertino headquarters.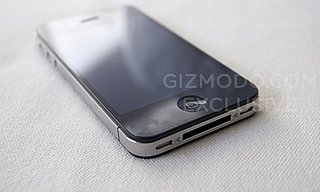 At first, published photos surfaced on Engadget, and people were skeptical. Then, after a few more leaked images, reports surfaced that the "new" iPhone was really just a Japanese Apple knockoff. Then, a notable and connected tech blogger deduced it was real, offering several confirmation points explaining why he believed the leaked photos were legit. Finally, someone at Gizmodo got his hands on the phone, posting an exhaustive set of photos before taking the phone apart to confirm that it is, in fact, the next iPhone.
Is it legit? To see what I have to say on the hype (and share your thoughts), keep reading.
So . . . Is it the real deal? Maybe. Did Gizmodo find it on the floor in a bar? Probably not. Bigger question: is this news really big enough to send the whole Internet into a tailspin? While I did follow breaking news that went something like this: "It's an iPhone," "It's not an iPhone," "Oh, wait, it's an iPhone, seriously!" — the whole thing seems a little bit ridiculous. First, if it is the new iPhone (and signs point to yes, it is), what good does leaking prototype photos do? Details are exciting: a front-facing camera, a new ceramic case, a much higher-resolution screen, a camera with a flash — but they're also expected.
Apple is set to make a big announcement in San Francisco on June 22, and most people believe it will be the unveiling of the latest iPhone. And since the device Gizmodo got its hands on is a prototype, there could be significant changes — especially to the device's exterior, which most coverage describes as somewhat surprising, given the sleek design of the iPhone 3GS. However, this "find" is hardly a confirmation of Apple's final product. And this is sure to set off two months of speculation of what might be included in the final version, whether or not the phone is heading to Verizon, who actually lost the phone (I feel sorry for you, dude), and what Apple plans to do about it.
Here's a guess: Apple will issue no comment and will refuse to comment on the leak until the official June 22 announcement, at which time all media outlets (except maybe Gizmodo) will get a hands-on demo of the new phone and official statistics on its design and functionality.
Do you have an opinion of all of the hype? Did you follow it? Do you care? Let me know!