Inbox Zero Nerd Merit Badge
Inbox Zero Nerd Merit Badge: Totally Geeky or Geek Chic?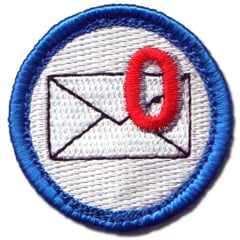 Achieving coveted "inbox zero" status is trickier than it sounds! Whether it's a message backlog created by an unplugged vacation or just a result of being way too popular, it's not difficult to accumulate thousands of unread messages. In fact, my two email accounts currently read (818) and (4896) in regard to unread messages. Eek! I don't know that I'll ever achieve "inbox zero" — but why not support the nerd in your life who has achieved such success! The Inbox Zero Nerd Merit Badge ($6) is a cute way to display your accomplishment in Girl or Boy Scout fashion.
There are other merit badges, too, like the Homonyms merit badge for correctly spelling words that sound the same but have different meanings and spellings, and multiple badges representing Foursquare success. There's even a laptop sash made for displaying your successes proudly! I think these are cute, but what do you think?