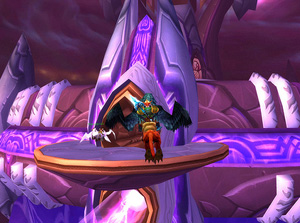 A professor at Indiana University has introduced a new grading system to a class called Game Politics. Lee Sheldon, an assistant professor in the telecommunications department, has replaced the traditional letter grading system in his class to a system based on experience points like the ones used to track progress in role-playing games like World of Warcraft. According to Sheldon, who is also a game designer,
"As the gamer generation moves into the mainstream workforce, they are willing and eager to apply the culture and learning-techniques they bring with them from games."
Students start with a Level 1 avatar, which corresponds to a letter grade of "F." Through challenges and quests (a.k.a. assignments), they gain points, advancing to higher levels. And, similar to World of Warcraft, students are grouped into "guilds" and must complete both solo tasks and group assignments.
Source: Flickr User autographedcat