Instagram Direct Message
Instagram Gets Intimate With Direct Messaging
The square-shaped world of Instagram is getting more personal with its latest feature, Instagram Direct, which is available today as an update on iOS and Android (stay tuned, Windows Phone users).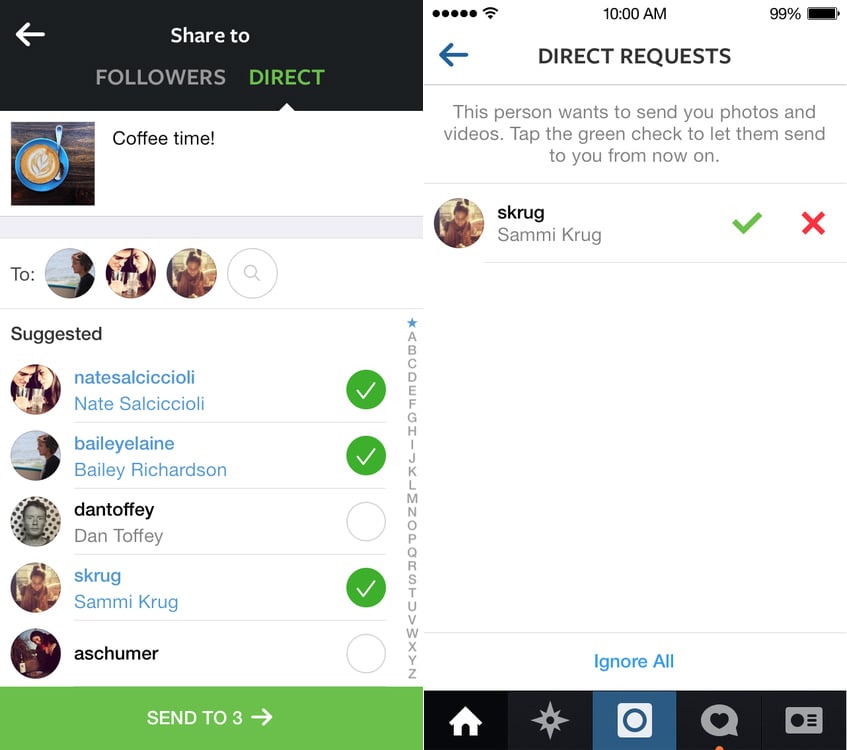 A new inbox icon, which will appear on the top right of your feed, is your queue for direct messages from other Instagram users. You must accept a user's request before they can send you direct posts, and vice versa.
Up to 15 people can be sent a direct photo or video at the same time. If you're sending a direct post to a group, everyone in that group can see that post's likes or comments, even if they do not follow each other. Deleting a post from Instagram Direct pulls that photo or video off of the Instagram network, so the users you've sent it to will no longer be able to view it.
To send a direct message, take a new photo or video (or edit an existing one from Camera Roll) then add filters and a caption, per usual. When you reach the Share page, select the new Direct tab to send that media to only one person or a group of people. These posts will not show up in your Home Feed and can not be shared to other social media sites like Facebook or Twitter.
Introducing Instagram Direct from Instagram on Vimeo.
Snapchat's instantaneous peer-to-peer photo and video sharing has attracted millions of users to the mobile platform, which sees over 400 million images and video shared per day. Instagram Direct seems like a response to the very private, ephemeral nature of Snapchat, which has certainly made a space for itself in the very competitive photo-sharing social networking arena.
Twitter also announced direct photo sharing earlier this week. The redesigned Twitter app for Android and iOS and Twitter on the web now allows photo attachments in direct messages for the first time.