Instagram Photo Booth For Weddings
Here Comes Instagram: Social Wedding Photo Booths
You can bet your wedding will have people Instagramming photos all night long. And thanks to some genius inventions, you can turn those shots into printed keepsakes. With a few of the services we've rounded up, all attendees have to do is tag their pictures with the hashtag of choice, and voilà — they're printed on the spot. And there you have it: snaps in a snap that your guests can take home as wedding souvenirs.
Insta Party Box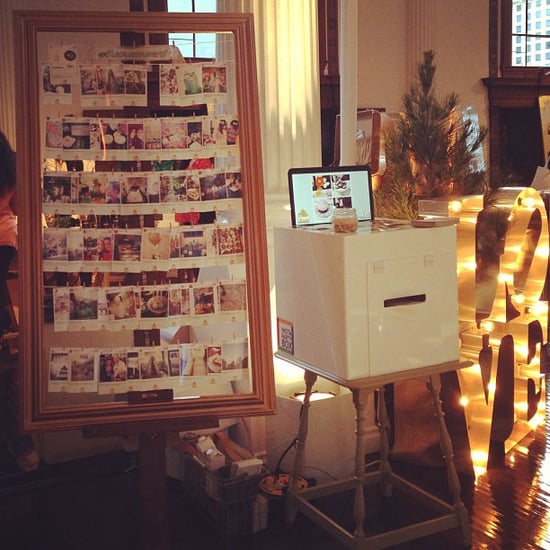 With a name like Insta Party Box, you know it's a guaranteed good time. Here's how it works: when your guests tag their Instagram photos with the hashtag, the small square white box finds those photos and instantly prints them out. It costs $200 per hour, which includes full custom graphics for the event, unlimited prints, and an on-site attendant. Another bonus is the option to have a book of all of the images printed after the event.
Instaprint


The idea behind Instaprint is similar to the one behind the Party Box, but here you get four sleek Instaprint boxes to put up around the event. Each box is associated with a certain location or hashtag, so tagged photos will automatically print. The company calls it a photo booth and Polaroid camera all rolled into one, and we can see why. Prices start at $5,000 for half a day.
Instaboothless


Consider Instaboothless (an on-site feature from Photoboothless) a photo booth system powered by Instagram. Like the other services, it prints out Instagram photos taken by guests after they tag them with a specific hashtag. Prices start at $650, and the prints also come with room for personalized messages and graphics.
BYO Booth


Besides having a clever name, BYO Booth promises printed memories for those who don't want to pay more for the printer. It collects photos from a hashtag on both Instagram and Twitter; guests without either account can email in their snaps. The photos then stream into a slide show that can be displayed for all to see on a monitor, but the only way to print them is if you set up your own printer. It also features a customized logo and print template and gathers all the pictures into a shared folder for all to see. The basic version of the service costs $200, and the most advanced one comes in at $400.