The square-shaped, filtered world of Instagram is no longer static — today, founder Kevin Systrom announced that video is coming to the photo sharing network's 130 million users on iOS, Android, and the web.
All the features users expect from Instagram are now available for video, including one-tap capture, filters designed specifically for moving pictures, and cross-posting to Facebook, Twitter, and more. iOS and Android users can download the Instagram video update now.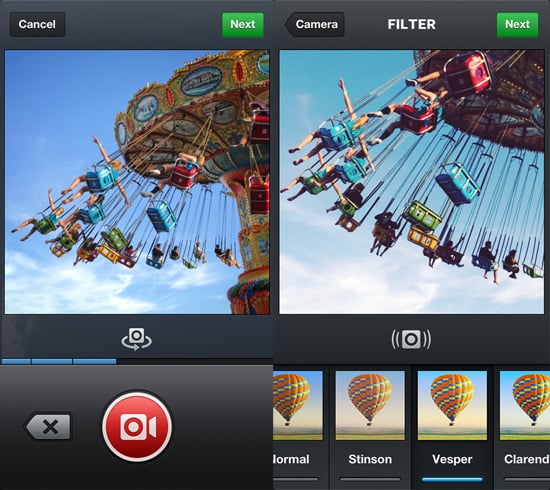 Instagram's new 15-second mobile video feature poses a direct threat to Twitter's six-second looping video app Vine, which just released an Android app earlier this month. Vine's network has a mere 13 million users compared to Instagram's 130 million, so the announcement surely stiffens the competition between the apps' parent companies, Twitter and Facebook. See the major differences between the two apps in action.
Instagram video is certainly poised to replace your current video sharing app — but will it? Check out the photo sharing network's best features after the break.
One-Tap Capture
A record button now appears to the right of the photo capture button. Tapping record enters video mode, and users can capture a scene with the front-facing or rear cameras.
New Filters
The app released 13 new filters designed specifically for video: Stinson, Vesper, Clarendon, Maven, Gingham, Ginza, Skyline, Dogpatch, Brooklyn, Moon, Helena, Ashby, and Charmes. The new offerings range from subtle to high-contrast to vintage-looking to black-and-white, just like the photo filters.
Custom Cover Photos
Mobile movie editors can also choose their own cover frame in Instagram. This is the screen capture that will appear in the Instagram feed on mobile and the web. A little play button in the upper right of the screen capture denotes that it is a video.
Multiple Clips and Deleting Clips
Like Vine, press to record a scene and let go to stop recording. Users can capture up to 15 seconds and however many "clips" they'd like. Unlike Vine, however, Instagrammers can delete the previous "clip" without starting the video recording over again, and continue capturing the scene.
Cinema
Cinema for Video on Instagram from Instagram on Vimeo.
Since shaky, blurry video doesn't match the emphasis on the visual that is Instagram, video on the social network uses a tool called Cinema, a video stabilizer to ensure videos are as crisp as photos. Stabilization is on by default, but can be turned off by tapping the bracketed camera icon seen above the filter options.
According to Instagram, users will be able to embed their videos in the future. Take the new update for a spin, and let us know if you'll be uninstalling Vine in favor of the new Instagram video feature.