Internet and Social Network Addictions
5 Signs of Social Network Addiction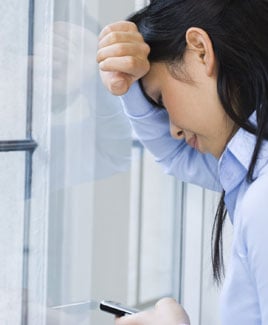 Refreshing your Twitter feed for breaking news is one thing, but becoming a slave to your social networks is another. While some people use Facebook, Twitter, and other forms of social media to stay in touch with friends, others can't step away for five minutes without losing their minds. Are you one of them? Here, five signs you may be addicted to your social networks and what you can do about it.
You're constantly checking for updates — Checking Facebook or Twitter for new updates a few times a day is one thing, but if you're checking on the bus, as soon as you get to work, constantly hitting the refresh button on your browser, and several times at night is going overboard. Sure, slacking off at work every so often has been proven to increase productivity, but if you're missing deadlines and getting into hot water with the boss because of your incessant need to examine your networks, you could have a problem.
Get the rest of the symptoms after the jump.
You tweet everything instead of enjoying the moment — Your Twitter feed is littered with snappy musings, TwitPics, and anecdotes about things you see during your day, and you're always the girl that has her smartphone held in the air the entire time you're at a concert. If you're always found tapping at your tiny touchscreen to update your followers about what's going on around you, you could not only be addicted, but letting life's little moments pass you by without fully appreciating them.
You feel anxious when you can't check in — Internet addiction is real, and if you feel anxious, depressed, lonely, or irritable when you can't check in on your RSS feed, social networks, or your favorite restaurant on Foursquare, you could be addicted and should find an Internet rehab center or support group ASAP!
You don't know most of your Facebook "friends" — You have a staggering number of Facebook friends, and only really know a small portion of them, which could mean that you're not only addicted to social networks, but to your number count as well. Remember — it's not a popularity contest.
You add random LinkedIn connections without actually having a connection — LinkedIn is a great resource to connect with colleagues, professionals, and friends. However, adding 200 people to your network to make you look more well-connected won't mean a thing if you can't back it up and use those connections to your advantage on the job.
How do you break the cycle? Here are a few ideas:
Start by initiating a "powered off" hour when you first arrive at home in the evening so you have sufficient time to decompress from your workday, then increase the time slowly so you have a longer period of time when your laptop stays offline.
Set a timer to help you understand how often you should be checking in on Facebook. Try setting it for every three hours and allow yourself to fire up your preferred social networks at that time. Alternatively, you can establish 15-minute intervals at designated times to when you're able to browse the web — before work (or during your commute), at your lunch break, quitting time, and an hour or so before bed.
Do you have any tips on how to wean yourself off a social network addiction? Share them with us in the comments section!