Interview With Kerry Miller From Passive-Aggressive Notes
Geeks We Love: Kerry Miller From Passive-Aggressive Notes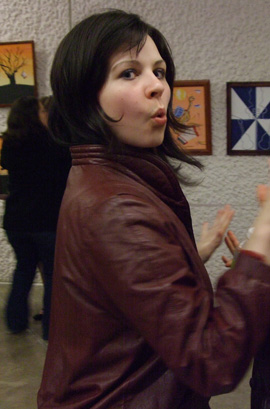 Kerry Miller is the one-woman operation behind the blog Passive-Aggressive Notes; a collection of "painfully polite and hilariously hostile writings from shared spaces the world over." A site that started as a way to chronicle annoying roommate habits has since grown into a vibrant online community. In fact, I love the site so much, I've featured it twice; first back in 2007 shortly after its launch, and again last year. Here, the site's creator talks about how the site got started, her thoughts on Mario Kart Wii, and the best passive-aggressive Valentine she's seen.
What made you want to start the blog? Did someone really make you angry?
Honestly, it was totally on a whim. I was a really bad date, and this guy just kept yammering on and on about his crazy roommate who had started hoarding toilet paper and leaving annoying notes everywhere. At the time, I was living in a second-floor walkup with three roommates, one of who had a particularly passive-aggressive streak as well. I said something sarcastic like, "Yeah, I should start taking pictures of them and start a blog about it. Now that'd really be passive-aggressive." I was just kidding, but this guy was like, "Yeah, you should." I literally came home from the bar — still a little drunk — and fired up the scanner. At the time, I had  no idea though I'd still be doing this three years later, and I certainly didn't think I'd get a book deal out it. Once the site got going, though, I realized pretty quickly that I'd hit a nerve, and I decided to run with it.
Comments are a huge part of your site. Do you have trouble getting everyone to play nicely?
Oh yes, definitely — especially at first. People can get pretty nasty behind the cloak of anonymity — whether it's in a written note or a comment on a blog, so I've worked pretty hard to keep things light-hearted and humorous. I try to set the tone in how I introduce and contextualize the notes I choose to post, and in the daily comments I choose to highlight. I also have a few basic community guidelines posted, but at this point, I rarely have to step into the enforcer role, because of the strong community that's developed around the site. They do a pretty great job of self-policing and keeping the trolls in line.
What gadget can't you live without? Why? 
I'd like to think that there's not a gadget I couldn't live without, but right now I'm very much enamored with my new digital SLR camera — a Canon Eos 7D. When it comes to photography, I'm not as into the gadgety side of things as some people are. I'm more interested in composition and story...not geeking out in Photoshop to perfect the color balance and saturation and whatnot. But it's really satisfying to have equipment that can capture a shot just as I'd imagined it. I've definitely developed some major "lens lust."
To find out more of Kerry's hobbies and her favorite passive-aggressive Valentine,
.
Do you think that technology brings people closer together, or creates more of a distraction? 
Well, when you look at technology in the broadest sense of the word (fire, agriculture, the wheel), it's pretty obvious that technology has brought people closer together. That said, personal technology marketers have done a pretty brilliant job of getting us all constantly wanting more — more mega pixels, more storage space, more shiny shiny. And that kind of treadmill consumerism, I think, can be a distraction, absolutely, at all levels of society.
Do you have any other geeky hobbies?
I got a Wii pretty cheap off Craigslist, but I mostly use it as a Dr. Mario machine. I really love Dr. Mario. (I like to think of it as "the thinking man's Tetris." So what if I was too chicken to ever take organic chemistry? My quick wits and knowledge of primary colors are enough to destroy any virus in my way!) A few years ago you used to be able to play it on Virgin Atlantic flights, and I Dr. Mario'd it up almost the entire way to London. Everyone tells me I have to get MarioKart, but so fair I've failed to see the fun in a game that involves maneuvering a car at high speeds while trying to avoid dying. I didn't get around to learning how to drive until I moved to Austin, and I hate it, so for me, that's not so much "entertainment" as it is "trying to get somewhere on a Texas Highway."
Oh, but that reminds me — but the one gadget I couldn't live without, for now at least, might have to be my Garmin Nuvi GPS. It's like my electronic security blanket. A really knowledgeable blanket that speaks to me in a soothing British accent.
Have you ever seen a passive-aggressive Valentine?
Oh yes. I think my favorite might be this one, just because it's such a classic grandmotherly guilt-trip, but the one that really kills me (probably because I'm reading way, way too much into it — all part of the fun!) is a doozy I've titled "Love is a Mixed-Signals Tape."