Interview With MG Siegler From TechCrunch
Geeks We Love: MG Siegler From TechCrunch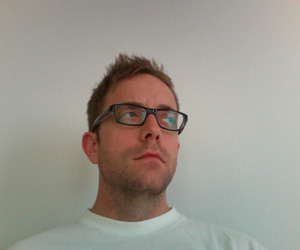 MG Siegler covers tech news and trends for TechCrunch, and reviews movies in haiku format in his downtime. Here's what he has to say about today's tech scene, the geekiest Valentine's Day gift he's given, and whether or not he'll be picking up an iPad in today's edition of Geeks We Love.
We know you from TechCrunch, but are there any other projects you're working on now?
From time to time I write on my more personal views on things on my own blog, parislemon.com. I also have reviewinhaiku.com, where, yes, I review movies in haiku format. That has been a work-in-progress for about five years now.
Do you think technology is becoming too much of a distraction in our daily lives? Alternatively, how do you use tech to your advantage?
Yes, it's basically impossible to take a step back now thanks to devices like the iPhone. I'm checking the thing literally every 15 minutes no matter where I am. And the only reason I'm not checking it every five minutes is because it makes me seem too rude — I'm fine with being moderately rude. I also now find it hard to sit down and watch a movie in my living room without having my laptop open. It's annoying to me because I love movies, but I'm addicted, and cannot stop. I feel absolutely naked without checking to see what's going on. 
That said, this addiction also makes me good at what I do. Because I'm on top of things pretty much 24/7 (minus the few hours that I sleep), I rarely miss stories and trends. 
What gadget (or gadgets) can't you live without? Why? 
There is one device above all others that I can't live without: the iPhone. To me, the Internet is all about information, and the iPhone literally puts all of it in my pocket. It has become something that is absolutely vital for my job, which is essentially information gathering. Thanks to the iPhone I don't have to carry around a laptop with me at all times. And besides the Internet, you have games, music, movies, and all sorts of other stuff on one device that's extremely portable. I even use the thing to take audio notes on, so I can remember thoughts I have about stories later. 
I've tried a number of Android devices pretty extensively, and some of them are great (the Nexus One, for example), but the iPhone is still hands-down the best mobile device. Apple just nails so many subtle things that their competitors can't seem to figure out.
To find out his favorite tech trends, funniest Valentine's Day memory, and how many iPhones he owns (hint: it's more than one),
.
What are some of your favorite — and least favorite — tech trends?
Currently, the trend that I enjoy following the most is the rise of location-based services. At a fundamental level I find them so interesting because they have the potential to marry social networks with actual social activity. The app Foursquare is a great example of that. I load it up, notice that a friend is at a coffee shop nearby, so I go visit them. 
Location is also interesting for the flip side of it: the privacy ramifications. Much of that still has to play out, but likely will when the huge networks like Facebook add location elements. There's also a lot of business potential for location. And again, apps like Foursquare are starting to take advantage of that with check-in deals and the like. Another trend I'm really into is the rise of touch computing. We saw it really kick off with the iPhone, but now we have all sorts of mobile devices that incorporate touch screens and multi-touch. Obviously, I'm excited about the iPad. I love the idea of computing moving way from the traditional keyboard/mice dynamic and towards something that is more natural. 
As for least favorite tech trends, I'm not loving the Twitter-fication of the web. I love Twitter itself, but the moves so many sites and services are taking to be more Twitter-like is just kind of lame. In general, I hate ideas being beaten to death. New things excite me, not rehashing the same idea over and over again.
Do you have a favorite Valentine's Day memory?
Usually, I stick with the traditional stuff: card, flowers, dinner, etc. One year in though I thought I was very clever when I found a website that let you name a star after someone. I remember they sent me some kind of certificate to make it "official," which I gave to my girlfriend at the time. Very nerdy stuff. I should check to make sure the star is still named after her and that I wasn't swindled.
I read on your site you have four Macs and Five iPods. Are those numbers still accurate? Are you going to get an iPad?
Still have the four Macs, but thinking about adding a fifth to the family when Apple upgrades the MacBook Pros to the newer Intel chips. As for iPods, if we're counting iPhones as iPods also, I think I'm up to seven now. I happen to have three iPhones — the original one, the 3G, and the 3GS — but they're WiFi only now, so they're basically the world's most expensive bedside alarm clocks.
I will definitely be getting an iPad. I got to play with one at the Apple event a few weeks ago; it's amazing how fast it is. Media looks great on it, and the book-reading app was nice, but I'm really excited for developers to make apps specifically for the device. The only question ii my mind is whether I should get the WiFi (cheaper) version or the one with AT&T's often-sketchy service. Or maybe both.