Interview With Prince of Persia: The Sands of Time Director Mike Newell and Creator Jordan Mechner
Exclusive: Why Prince of Persia Wasn't Made in 3D
After sitting down with Jake Gyllenhaal at this year's WonderCon in SF, I headed over to chat with Director Mike Newell and Prince of Persia creator Jordan Mechner. Mike Newell is no stranger to mystical story lines, as he's directed such blockbusters as Harry Potter and the Goblet of Fire, while Jordan Mechner started the whole story in motion back in 1989. Find out what they had to say about the future of the franchise, and why they decided not to bring Prince Dastan to life in 3D below!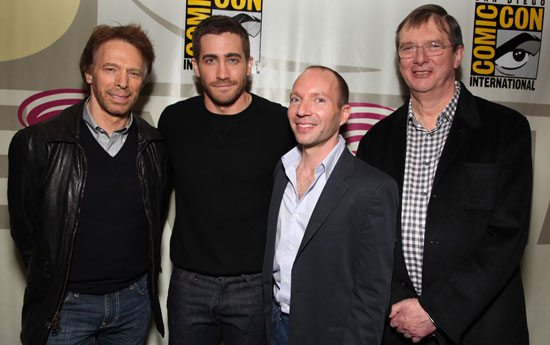 Director Mike Newell on how he got involved with Prince of Persia: What drew me towards it was that I loved the script, and the idea of it. I was sent two things; I was sent the script, and I was also sent by Jerry [Bruckheimer], a beautiful art book of 19th century pictures — by mostly French painters — of people who had been out to Arabia, and had painted what they'd seen there, like documentary paintings of what they saw in Arabia. There was this incredible light, trains of camels, architecture, the desert, lines of fierce horseman attacking, and I remember phoning Jerry back and he said, "Well, what do you think?" and I said, "I dunno yet, but I'm not giving you the book back."
To hear why the story was so important, Mike Newell's thoughts on 3D and the film industry, as well as how the original Prince of Persia story was inspired, just read more.
On making the film believable: I loved the fact that we were going to make a story in which the audience would absolutely believe they were in reality. And then, we were going to put into it these magical, mystical, non-rational things like magic sand, daggers that can take you back in time, and make the audience believe that the characters that they were watching completely believed in the magic. If that hadn't been the case, if we hadn't said that these characters live in a world where they believe this kind of non-rational, magical stuff, it wouldn't have been anything for me.
On why Prince of Persia wasn't made in 3D: We were about the last movie to be made before everyone sort of woke up to Avatar. There is a conversion process, but I'll speak for Jerry [Bruckheimer] — I think he would have said is, if we change this now, we stand a really good chance of turning a silk purse into a sow's ear. You can't reinvent this whole thing on the fly. We didn't know about 3D, we didn't even know about Avatar, and we must simply have the courage not to be freaked by that and try not to make some sort of non-satisfactory nod to that direction.
About the future of the Prince of Persia franchise: As far as I know, there is not a sequel. And besides, this thing hasn't taken in a dime at the box office, and it's only when they see if there's a public appetite for it, will they know whether they want one or not. So at the minute there isn't one.
Creator Jordan Mechner on seeing Prince of Persia through from a video game to a big-budget film: It's pretty awesome. First of all, seeing WonderCon from the stage with Jake Gyllenhaal and 4,000 people, it's different. But yes, to see this game that started 20 years ago on the Apple 2, now becoming this giant movie is fantastic.
On where he got the inspiration for the Prince of Persia script, besides the original game: I really see Prince of Persia as a movie that harks back to swashbuckling adventure movies of the '40s, like The Thief of Bagdad and Robin Hood. So I watched all those movies again — Raiders of the Lost Arc and the modern versions of those, Zorro, and Pirates of the Caribbean — and the goal was to write a movie in that genre, but sort of updated and made fresh for modern audiences.
On how the movie came about: I actually brought Prince of Persia to Disney and Jerry Bruckheimer after The Sands of Time [video game] was made, and I showed Jerry a two-minute trailer that I had cut together out of game footage. It got him excited, and he told me to go write it.
On if he picked up an iPad on Saturday: I have an iPhone, I have a Mac laptop, but I'm holding off on the iPad just because, not because it's not cool, but I think it will make it easier to all the things that my New Year's resolutions were to do less of. Like check Facebook, and Twitter, and click on the links my friends send me instead of working.