Interview With Thomas Houston and Leila Brillson From Switched
Geeks We Love: Thomas Houston and Leila Brillson From Switched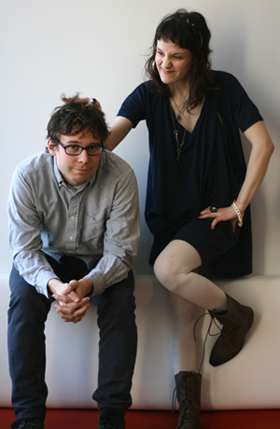 It's almost Valentine's Day and our Geeks We Love series is going strong! Next up: Thomas Houston and Leila Brillson, Editor-in-Chief and Managing Editor (respectively) of Switched, a blog covering technology and its relation to all of our other favorite things — fashion, art, and gadgets. Here's what they have to say about their favorite gadgets, their plans for Valentine's Day, and the blog they're thinking of starting together one day (we think it's a great idea, too!).
We know you from Switched — are there any other projects you're working on now?
LB: I also write for InterviewMagazine, so I am gearing up for some Fashion Week coverage. When I'm not at Switched, I'm an editor for Rundown, which is this awesome NY-oriented men's site that kind of covers happenings in the city. Lastly, but certainly not leastly, I have my own often-neglected blog, Battledroid, which is kind of a fusion of geekery and fashion, my two favorite things.
TH: Switched has kept me extremely busy lately, but I've got some new blog ideas for 2010.
LB: Thomas has been threatening to get us to start a site that's a cross between FU Penguin and the Sartorialist for New York City pets. I think its a grand idea.
Do you think technology is becoming too much of a distraction in our daily lives? Alternatively, how do you use tech to your advantage?
LB: I think anything that makes life easier can be a distraction in our daily lives. However, tech, you know, makes life easier in a lot of ways. Technology is a double-edged sword: total interconnectedness leads to collaboration and an easy way to share info, but it also leads to confusion and being overwhelmed by constant status updates/news feeds/product launches. Which may explain Thomas's fear of Facebook.
TH: It's not a fear so much as a self-imposed protection mechanism protecting me against the flood of things old friends and acquaintances post. Technology can be an enormous distraction and staying focused is increasingly difficult in the face of the growing torrent of news, e-mails, IMs, and everything else. That said, it's really exciting to be covering the cutting edge of tech, art, and design, and it enables us to have a team working together around the world.
To find out their favorite tech trends, V-day plans, and how they spent their recent snow day,
.
What gadget can't you live without? Why?
LB: My iPod, because living in New York City, if I had to listen to all the street craziness all the time, I would go bonkers. Laptop and BlackBerry are kind of a given too: I guess it's the modern holy trinity.
TH: Though smartphones are undeniably useful for managing things on the go, the title of "gadget I can't live without" goes to my MacBook Pro. It's essential for everything from blogging and editing to staying in touch with family and friends and designing.
What are some of your favorite — and least favorite — tech trends?
TH: The growth of the cloud for data storage has been enormously useful (though Spotify still hasn't come to the states). Perhaps not a trend, but I'd like to see more discussion of technology's impact on everyday life, and how to deal with the explosion of data that connected mobile devices enables.
LB: I don't own, or understand, e-readers. I love books too much, and I came from magazines, so a part of me is very loyal to the paper. However, I think that once higher resolution readers are adopted and more affordable, I could understand receiving my morning paper in its e-form. But I will never pass up the opportunity to flip through a glossy mag. I'm also super excited about these random, self-aware interactions technology has afforded global citizens, like Chatroulette and flash mobs. We are interacting with each other more than ever, and some of us have come up with some rather clever stunts and projects that are based on democratic ideas like crowd-sourcing or group participation.
Do you have a favorite Valentine's Day memory? Are you celebrating this year?
LB: Hands down, my sophomore year of high school when I came home on the night of V-Day and my mom had festively decorated and cleaned my disaster area of a room (an unlikely occurrence). I actually have a box from her, she's been my best Valentine. This holiday is incredibly jinxed for me, so I'm keeping my plans under wraps so I don't jinx myself. But I assure you, they are cute.
TH: A permanently jinxed holiday here, but I still somehow haven't seen Avatar, though that probably isn't helping things.
LB: Ladies? Anyone want to see Avatar?
Which is your favorite way to communicate — talk, text or tweet?
LB: Totally talking. Face time with someone will never devalue. However, I do enjoy a finely crafted tweet, now and again.
TH: Definitely talking. Tweets and texts can be fun, but there's nothing like talking face to face.
New York just got slammed by a huge blizzard. What did you do on your snow day (besides this interview)?
LB: I, for one, have a paranoid fear my carbon monoxide detector is on the fritz, so I aired out my apartment and finally got around to building a desk to keep myself warm. It's gorgeous here . . . as long as I only have to watch it from my window.
TH: There's one thing that's a pain about technology! Unless power goes out, "snow days" are a quaint memory from the 20th century.