JJ Abrams at Comic-Con 2013
Tweets of the Week From Geeks We Love
This week, our favorite geeks on Twitter traveled to Geeklandia, also known as San Diego, CA, for Comic-Con 2013. In other news, Felicia Day gets her face immortalized as latte art, and J.J. Abrams hits the convention floor. See Felicia, J.J., and more in our top five tweets of the week from geeks we love!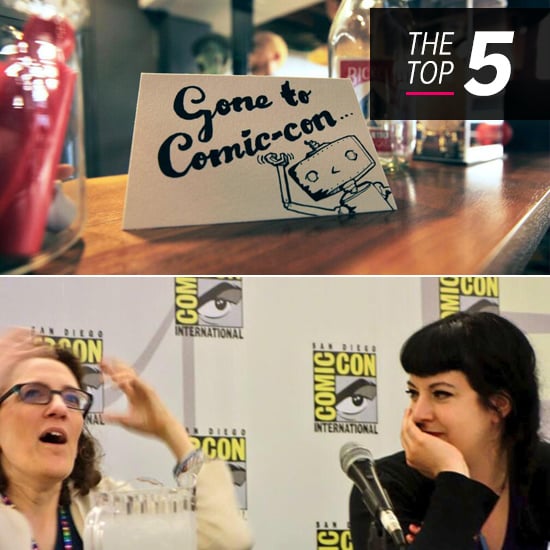 Simon Pegg, writer and star of The World's End, finds Doctor Who's Matt Smith extremely funny. Can't blame him.
Doctor WHAT??!! pic.twitter.com/fywBSIwPPP

— Pegg News (@simonpegg) July 23, 2013
More of the top geeky pithy messages after the break.
Veronica Belmont, host of The Sync Up, has one very determined, tech-savvy kitty.
Can you guess where director J.J. Abrams is? The Comic-Con convention floor!
I'll be back. #WhereIsRobot #SDCC pic.twitter.com/0zRKsRMAK4

— Bad Robot (@bad_robot) July 21, 2013
We're loving J.J.'s "Gone to Comic-Con" illustration too.
#WhereIsRobot? Gone to #ComicCon! See you there… pic.twitter.com/d6EBinQrIn

— Bad Robot (@bad_robot) July 19, 2013
Never thought we'd say this but . . . look: Felicia Day of Geek and Sundry latte art!
If you're not following @george_10g for his epic latte art, you are missing out! And it's not just cause he made me: pic.twitter.com/dBLHS1G0YM

— Felicia Day🇺🇸 (@feliciaday) July 25, 2013
Star Wars DIY Craft Book author Bonnie Burton looks lovingly at Jane Espenson, producer of Buffy the Vampire Slayer.
This photo captures how in awe I am with the amazing @JaneEspenson from our #EndBullying Panel at #SDCC pic.twitter.com/cElx5HPrJr

— Bonnie Burton (@bonniegrrl) July 26, 2013