JailbreakMe Not Working For Some
Do You Jailbreak?
Over the weekend, a web-based jailbreak solution was released to iPhone-toting masses called JailbreakMe. This jailbreak is accessed through a website on your iPhone's Safari browser, and all you have to do is follow a few simple steps to set your phone free of Apple restrictions.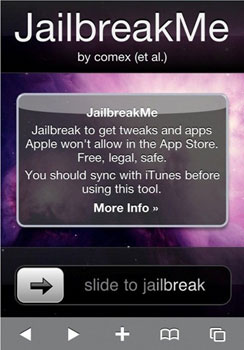 Sounds easy, but some folks have been complaining that it doesn't work, and after allowing the program to run, their iPhones become "bricked" (or rendered unusable). Seems pretty risky to me.
I don't quite understand why Apple customers would want to jailbreak their iPhones — since you know what kind of environment you're getting into with Apple products — instead of just buying a comparable Android-run smartphone (like the Droid X, perhaps) or other device. Now that jailbreaking is legal, I'm betting there will be more stories like this to come. But I'm curious to know — how many of you have jailbroken your phones in the past, or are planning to jailbreak your iPhone now?