Jawbone Jambox Speaker
Jawbone Gets Into the Music Business With Jambox
If you thought that Jawbone only made products that allowed you to speak with friends, family, and colleagues (or secretly to yourself — you know you've done it) while on the go, think again. Today, Jawbone introduced its Jambox, the first music player to come from the mobile communications company. Connecting to your computer, laptop, iPod, cell phone, or any other Bluetooth device, you can rock out to your favorite tunes wirelessly from anywhere. And since it's made of stainless steel with a sturdy rubber casing, you can leave it at home, take it on the road, or post it up at the office without worrying that it will get thrashed by rowdy co-workers.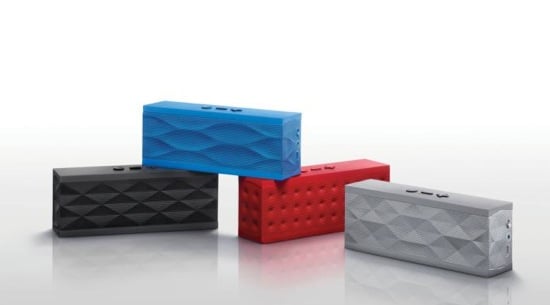 Not only does it play music, but the Jambox can also be updated with apps and software from Jawbone's online platform, MyTalk, which lets you update your Twitter account and send texts with your voice, and listen to podcasts on your Jawbone devices.
Find out pricing and availability details on the Jambox when you read more.
The Jambox comes in four cool colors (blue wave, black diamond, grey hex, and red dot), is available for preorder now for $200, and will be available for pick-up in Apple and Best Buy stores on Nov. 16.