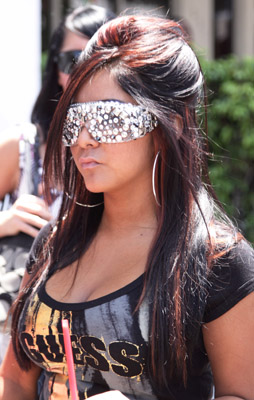 Looks like Jersey Shore's Snooki didn't get the memo that breaking up via voicemail — aka "the voicemail substitute" — is not OK. The MTV cast is currently filming a second season of the show in Miami Beach, and amid rumors of cheating on both sides, Snooki allegedly left her boyfriend, trainer Emilio Masella, a breakup voicemail that said, "You're nothing. You're single."
Reasons for the breakup are unclear; some say Snooki has been hooking up with The Situation in Miami, others say Masella has been seeing someone else on the side. And apparently sources close to the Snooks say she was worried he was using her for fame and that him auditioning for MTV's The Real World was the final straw. Early on, sources also said Masella found out about the breakup through Facebook, but he later confirmed to People that the news had come via a voice message. According to his Twitter, Masella isn't too happy about the breakup.
Either way, the VM-breakup is still a no-no. And besides, doesn't MTV ban the use of cell phones among cast members during filming?