Jimmy Fallon Will Use Twitter at the 2010 Primetime Emmy Awards
Twitter Plays a Major Role in This Year's Emmy Awards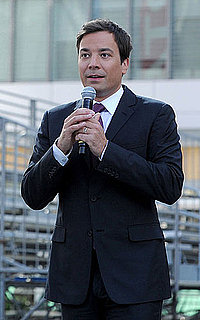 Late-night talk show host Jimmy Fallon already makes good use of Twitter during his broadcasts each night, but now he's bringing tweets more mainstream by incorporating them in presenter introductions. Twitter users are encouraged to visit the official Emmy site for their chance to have a tweet displayed during the upcoming Primetime Emmy Awards, airing this Sunday on NBC.
For your chance at nationwide fame and bragging rights, visit nbc.com/emmys/imontheemmys. Then sign in to your Twitter account and click on any presenter's name on the page. A partially populated tweet will appear including the presenter's name and hashtag #imontheemmys.
The opportunity to submit a tweet for consideration starts now and lasts up until the minute the awards show begins, so you have plenty of time to submit a funny, witty, or otherwise awesome post for consideration.