John Mayer Might Quit Twitter: "It's Flawed"
Are You a Twitter Quitter?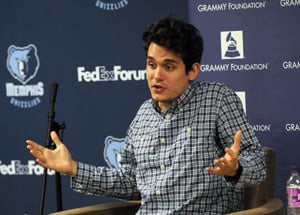 John Mayer, arguably the king of Twitter TMI, might pull a Miley Cyrus and quit Twitter. While speaking at the ASCAP Expo in LA, John had this to say about the microblogging site: "Every night for the last two weeks, I think about canceling Twitter. It's over." John says that since joining Twitter he's earned himself an army of "haters," which he says he can do without.
"Why do I want more haters? If someone had told me when I signed up I'd get half a million haters . . . It (was) really sort of flawed from the beginning."
Given that he reportedly lost then-girlfriend Jennifer Aniston over his addiction to tweet, it's hard to say if he'll really go through with it. He has been tweet free for over a week though, so there's that.
While I've had friends threaten to become Twitter quitters, I've yet to see anyone commit to the move. How about you . . .