Juicy Couture iPod Speakers
Juicy Couture Plush Speakers: Love 'Em or Leave 'Em?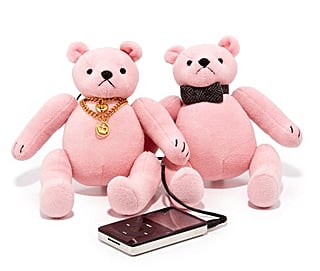 When I saw these Juicy Couture Mini Bear Speakers, I was a little taken aback. The designer label speakers, sold at Nieman Marcus for $68, are a set of two pink bears, one donning a Juicy Couture-logo necklace, the other a herringbone bow tie. They'll work with any MP3 player and even feature a back pocket for easy storage. And they're not tiny — the bears are 9 1/2 inches high when seated!
These could be a good gift for a young girl, but the price seems a little too much for me — as do the bears themselves. Do you agree, or do you love these fuzzy speakers? (And if you do love them, you should check out their cousins, the Scottie Plush MP3 Speakers, on sale for $23.)