Juno Mission to Jupiter
Juno's Mission to Jupiter: Facts, Figures, and Interesting Tidbits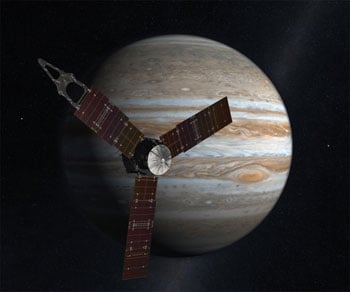 At 11:34 a.m. EDT today, NASA's Juno space craft launched into space from Cape Canaveral on a mission to Jupiter. The gas giant is still a mystery to Earthlings, and the purpose of the mission is to study the origins of Jupiter (which scientists believe was the first planet to form in the solar system), find out if there's a solid mass underneath all that gas, and help us understand other planets surrounding our solar system. The billion-dollar mission is ripe with fun facts. Check out a few of them below!
The Juno spacecraft will cover 1.7 billion miles and reach Jupiter in five years' time.
Juno is solar powered, the first of its kind to travel so far away from the sun. Other spacecraft that have been rocketed into space have been nuclear powered.
It will be carrying three LEGO figurines depicting the Roman God Jupiter, and his wife Juno to symbolize the Grecian origins of the mission, as well as a figurine and plaque honoring Galileo Galilei, who discovered Jupiter's surrounding moons.
Juno will go into Jupiter's orbit on July 4, 2016, and Juno will plunge into Jupiter itself when the mission ends in 2017.