Jurassic Park Limited-Edition Poster
Stalk Twitter on Thursday to Purchase a Limited-Edition Jurassic Park Print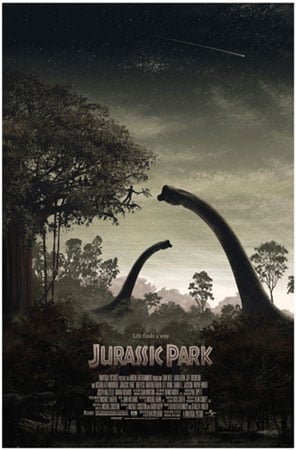 Ready your browser's Refresh button and get cozy with the computer screen, as this limited-edition Jurassic Park print goes on sale sometime on Thursday. Mondo, a shop of beautiful hand-screen-printed tees and posters is offering a limited printing of 375 Jurassic Park posters for purchase at $45 each. The 24'' x 36" prints' availability will be announced sometime on Thursday, Oct. 27, through the MondoNews Twitter feed.
This print is designed by artist JC Richards, and is one in a series of Jurassic Park-themed prints Mondo is releasing this Fall. Fans will remember this quiet scene from the movie when the children and Dr. Grant happen upon a herd of omnivore dinosaur grazers.
Stand by your Twitter feed tomorrow to snag a print for your home. If they happen to sell out before you can get your purchase in, comfort yourself with the new Jurassic Park box set, with the film's two sequels included, which came out on Blu-ray this week.