Jury Duty Phone and Tech Violations
3 Tech Don'ts to Avoid While on Jury Duty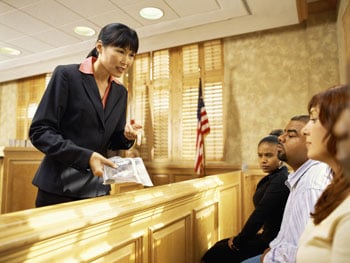 Though the ease of online communications can be a tempting way to vent or make new friends, sometimes it's best to resist, as was the case for a recent juror in Texas who Facebook messaged a defendant, then found himself guilty of four counts of contempt of court. We may be used to sharing every thought in quick, two-sentence missives online, but here's what not to do when serving time in the court room.
Don't friend, follow, circle, like, stumble, or tumble anyone related to the case. Take a dose of willpower and don't even search for their online persona. When there's the possibility of any sort of legal ramifications involved, err on the side of social media caution and steer clear of online involvement with an offline court case.
Keep those witty thoughts about how boring the trial is or the guilt of the defendant to yourself. A juror who posted a Facebook status declaring themselves "sitting in hell" at jury duty was kicked off a trial. Similar is the juror required to pay a fine and write an essay on the constitutionality of a fair trial after she was caught telling the Facebook world the defendant was guilty.
Don't use a smartphone, tablet, or other type of mobile computer for reference in court. A Florida case was found to be a mistrial because a juror searched the definition of the word "prudent" on their phone and shared the meaning with the rest of the jury. Why is this a big deal? The term was used throughout the case and was given significance in the jury instructions from the judge. Defense attorneys were able to argue the jury's new view of the term affected the verdict outcome, and a mistrial was declared.
Basically, if your normal instinct is to turn to social networks or your phone in a dull moment (and we can all agree jury duty has those moments), for the sake of the trial, your tax dollars, and avoiding a personal run-in with the law, take a digital vacation until the end of jury service.