Karen Gillan Hair
GTA 5, the Ginger Queen, and More Geek Tweets of the Week
This week, a burnt-orange and deep-red spectacle took over the Twitterverse. Director J.J. Abrams got his Bad Robot mascot scarf-ed up and ready for Autumn, and Ginger Queen/former Doctor Who companion Karen Gillan reminisced about her long, redheaded locks. See J.J., Karen, and more of our favorite geeks in this week's top 10 tweets.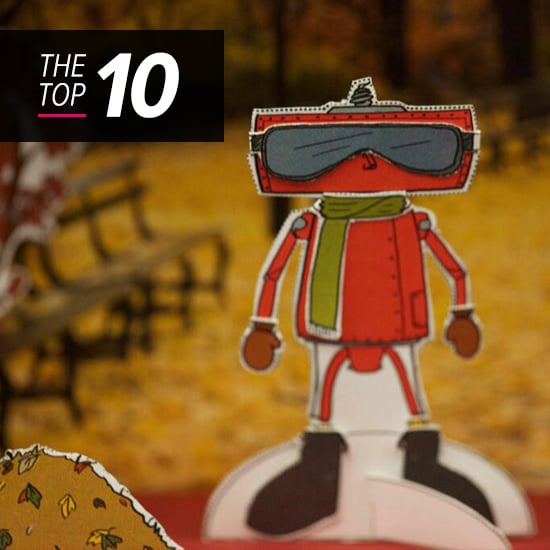 Former Doctor Who companion Karen Gillan cut off her locks to play Nebula in the upcoming Marvel film Guardians of the Galaxy, which wrapped this week.
To think this stuff was once attached to me... pic.twitter.com/H2xq0qsanz

— Karen Gillan (@KarenGillan2) September 24, 2013
Apple's new operating system, iOS 7, ages all humans, even Geek & Sundry's Felicia Day. There are tons of tips and tricks, like this one below. See the complete list!
@feliciaday settings>general>accessibility>Bold text. You're welcome :)

— Alan Trecida (@ATrecida) September 25, 2013
More pithy messages after the break.
The Sync Up host Veronica Belmont nominates Grand Theft Auto V for Game of the Year. Thoughts?
No one told me there were juggalos in #GTA5. Automatic #GOTY.

— Veronica Belmont (@Veronica) September 26, 2013
Star Wars Craft Book author Bonnie Burton wishes Mark Hamill aka Luke Skywalker the happiest of 62nd birthdays. In this incredible clip, the actor describes what it was like to screen test for Star Wars.
Happy Birthday to my favorite Jedi AND Joker @HamillHimself! http://t.co/yb6fQj3SUV #StarWars

— Bonnie Burton (@bonniegrrl) September 25, 2013
Astrophysicist Neil deGrasse Tyson thinks that there's no room for dreamers in America's Favorite Quiz Show.
"Imagination is more important than knowledge" -Albert Einstein . . . Except on Jeopardy.

— Neil deGrasse Tyson (@neiltyson) September 25, 2013
What's being on the set of Mythbusters like? According to host Kari Byron, pretty badass.
My other car is a forklift @MythBusters #fromtheset pic.twitter.com/VP05AH7vjU

— Kari Byron (@KariByron) September 26, 2013
There's nothing quite like a stellar romance. Curiosity rover flight director Bobak Ferdowsi shared this telescopic mosaic of the Andromeda and Triangulum galaxies.
Galactic love: M31 & M33 locked in a mutual gravitational embrace. http://t.co/MAzdfYCzCI pic.twitter.com/rrj5fvkwpB

— Bobak Ferdowsi (@tweetsoutloud) September 27, 2013
Rock on, Mr. Fett. Actor Wil Wheaton gets to rock out to a Boba boom box.
Another great piece of artwork I'm the studio where I'm working this week. http://t.co/zllaPXdap6

— Wil Wheaton (@wilw) September 20, 2013
Director J.J. Abrams is all set for Fall.
Ready for anything. #TGIF pic.twitter.com/G0wLXhfVCG

— Bad Robot (@bad_robot) September 27, 2013
The World's End actor and writer Simon Pegg looks back on the film, which was unfortunately beat out last weekend at the box office by One Direction: This Is Us. The film did, however, achieve 89 percent on Rotten Tomatoes, and POPSUGAR Entertainment called it one of the "funniest movies of the Summer."
Ah, happy days. pic.twitter.com/nqWYsiobKT

— Simon Pegg (@simonpegg) September 20, 2013