Karen Gillan LA Times Doctor Who Interview
Karen Gillan Dishes on the Doctor, River, and Fans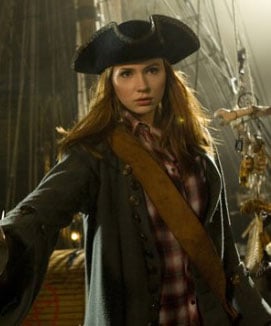 With just about two weeks remaining until Doctor Who fans get their seasonal fix with the Christmas episode, there's a happy break in the Who absence, as Karen Gillan (who plays Amy Pond) spoke on all things Doctor to the Los Angeles Times.
Take a peek at Karen's perspective of her character's strange family tree and what she has planned for life after the BBC's popular sci-fi show. Warning: season six spoilers right ahead!
Return of the Ponds — "I have not read a single word of the next season. I know I am coming back, but that's all I know, to be honest." In unison: Woohoo!
River Song's Reveal — "I did not know that River Song was Amy and Rory's daughter until we got the script for that episode. Because if I'd known that, it probably would have changed the way we interacted with one another, River and Amy."
Karen vs. Amy — "I'm not anywhere near as sort of sassy and confident as she is. At all . . . But obviously there are bits of me in there, but it's probably . . . bits that are a bit odder."
Find out Karen's strangest moment with a fan after the break.
Wacky run-ins with fans — "There was a woman in New York who proposed to me dressed as David Tennant. That was quite strange."
Life after Who — "I want to do more theater. I want to do more stage. I have a real passion for it. I want to do it as much as screen stuff . . . Not a musical, maybe like a play on Broadway."
Source: BBC America