Karma WiFi Hotspot
Start-Up to Watch: Karma, A Pay-as-You-Go Social WiFi Hotspot
New York-based Karma — a pay-as-you-go mobile provider that promises only two things: simplicity and honesty — may be on to something. There are zero commitments at sign up (Karma users just pay for the data they need), and with a concept called, "Social Bandwidth," sharing a connection from a Karma hotspot earns users more free data, just like earning additional storage in Dropbox.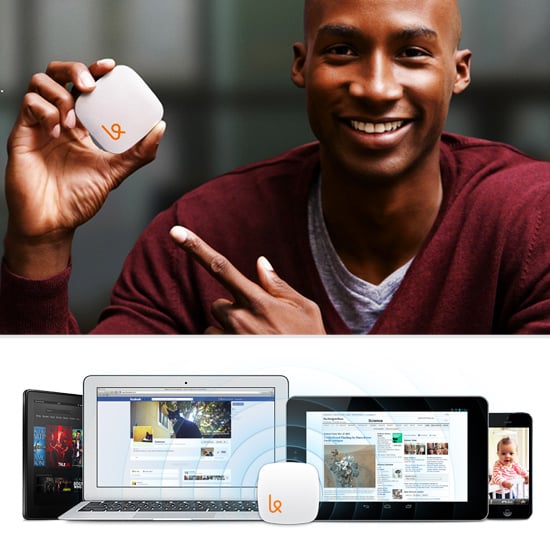 Karma's sleek, square-shaped mobile hotspot costs $79 for the device and $14 for every 1GB of data thereafter. One gigabyte is equivalent to approximately eight hours of music streaming or sending/receiving 500 emails with 2MB attachments. You can check your iPhone data usage to gauge how many gigabytes you'll need. Plus, users can rack up free bandwidth by sharing a connection in prime Internet usage locations like coffee shops. The Karma host and the person connecting to their WiFi signal will both earn 100MB. One downside is that users have to sign up with Facebook (no matter what), although this does provide Karma hosts some comfort that the guests on their network are real people.
Could this be the future in anywhere, anytime social WiFi? A typical mobile hotspot, like Verizon MiFi, costs about the same — around $30 per month for 2GB of usage. But that's with a two-year contract. Contractless online access is pretty attractive, especially if your Internet usage on the go fluctuates from month to month.
The device itself can connect up to eight WiFi-enabled gadgets for six to eight hours on a full charge. The 4G network is provided by Clearwire, and interested users can see how well their city is connected on Karma's coverage map. WiFi is becoming more available than ever, and we want to know: will you sign up for mobile hotspots in 2013?