Katee Sackhoff Doesn't Google Herself
Why Katee Sackhoff Doesn't Google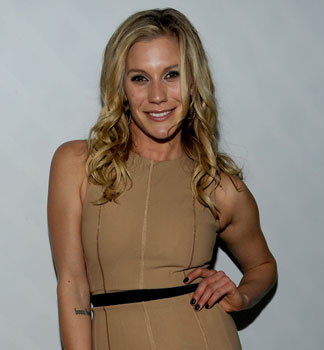 While at the TCAs last week in LA, BuzzSugar got some one-on-one time with my favorite BSG alum, Katee Sackhoff, who's settling into her new role on Fox's 24. Although we're used to seeing Kara Thrace bust some heads on the small screen (and it doesn't seem that there'll be any shortage of drama in her new role), the real Katee has a vulnerable side which keeps her from pointing her browser to Google to see what fans are saying about her. It's really quite sad, and kind of intense! When asked if she likes to keep up with her fans online, she said:
I learned a long time ago not to go online when a guy said I was so ugly it looked like I fell out of the ugly tree, hit every branch on the way down, fell on my fat ass, crawled back up, fell down again, and landed on my ugly face. I learned at that moment you can never make everyone happy and that it's better just to avoid it. What the Internet has provided is this wealth of information and knowledge, but I think it's also allowed people to be critics without having to step up. And the reason I remember that is because it was so painstakingly written to be cruel. And it's amazing to me the things that people say online. I would never say something like that about a person. It's hurtful. And so I learned a long time ago just to avoid the Internet like the plague.
Yeesh! I for one think she's gorgeous, and unfortunately her experience isn't unique. No wonder she doesn't Google . . .