Kickstarter Project Funding Record
Kickstarter Funds 10,000th Project
Kickstarter, the crowd-sourced funding platform that turns creative ideas into reality, this week announced its 10,000th successfully funded project in the company's two-year history. We've spent hours exploring the projects up for support on the website. From musicians looking to record their first studio album to helping technology entrepreneurs gather cash to make a gadget prototype, surfing through the funding requests shows a glimpse into the passions of the Kickstarter community. If there is a campaign appealing to users, they can pledge various dollar amounts to help bring the ideas to life.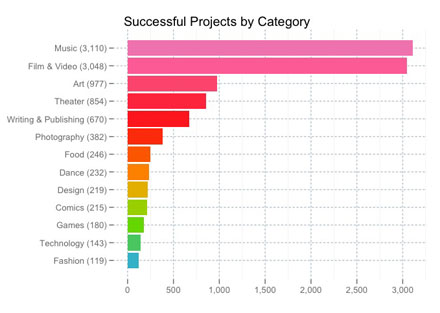 The graph provided by Kickstarter shows most of the successfully funded projects are music or video. Though there are many technology projects on the site, many have significantly higher budgets due to the costs of manufacturing, which may be why there are far fewer completed tech projects. The 10,000 projects raised over $75 million to fund the budding entrepreneurs, musicians, artists, designers, and writers.
Have you pledged money to any Kickstarter projects? After the break, take a look at Kickstarter's video breezing through the 10,000 funded projects.