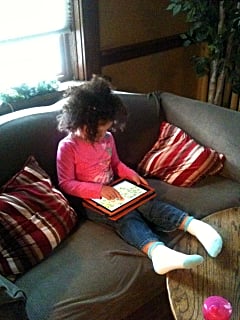 While visiting family over the holidays this year, I toted my iPad along, intending to use it to stream movies, read books on the Kindle app, and casually browse the Internet during the lazy days of vacation. I figured my parents would be impressed by it, but I had no idea it would blow my four-year-old niece's mind.
LilSugar found that your opinions are split when it comes to kids and the expensive gadget. And until I witnessed it for myself, I didn't think that iPads were meant for kids, either. Given how expensive the iPad is, I was wary of letting her use it at first, but during a particularly active afternoon, I hoped that a few minutes with the iPad would calm her down. And, it did! I've completely changed my stance on kids and iPads; get the full list of reasons after the break.
A four-year-old is not a two-year-old. Since I don't have kids, I'm not familiar with the intricacies of their developmental stages, but after telling my niece to be careful, she was very, very careful. Threaten to take it away if they aren't careful, and she was especially well-behaved while the iPad was on her lap.
There are great apps for kids. The big winner at our house was Doodle Buddy, a free app for drawing, painting, clip art, and typing. My niece drew me plenty of pictures that I was able to email to myself and keep. I love looking at them when we're far apart.
It's stimulating. The iPad responds immediately to touch, and she was able to create all kinds of images. Plus, she even typed her name for me in what was one of the most adorable moments of my entire trip.
Busy, engaged kids = quiet kids. I feel a little guilty admitting that I let her play with it when I needed a break, but it occupied her better than a typical TV show, and I got 30 minutes of quiet.
It's adorable. Check out the photo — kids who know how to operate technology are cute. It took her maybe 20 minutes to master the controls. And there's something awesome about realizing that they'll grow up in a tech-filled world where she can't remember not having an iPad.
Would I buy my niece or future children iPads of their own? If I had the bank account of Tom Cruise I would. Until then though, I'll certainly give my niece plenty of iPad-using time while I'm around.