Kim Kardashian Uploads Bikini Photos to Twitter 2010-03-29 03:47:48
Geek Out: How Many Bikini Twitpics Is Too Much?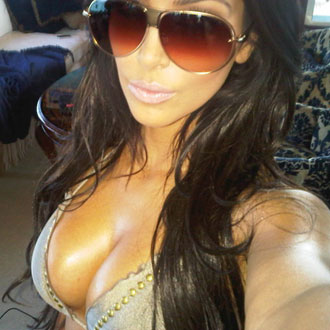 Reality TV staple Kim Kardashian has been spending the past week hanging with her family in Miami while recovering from her very public breakup with football star Reggie Bush. We all know how hard breakups can be — online, and in real life — so getting some sun and surf is just what the doctor ordered. Although photographers have been following her every move, Kim didn't shy away when cameras caught her showing some skin while relaxing on a yacht last week in Florida. However, it seems that the reality star is turning into quite the paparazzo herself — she's uploaded three bikini-clad self portraits to TwitPic in the past week.
I'm all for people using Twitter and TwitPic to share what's going on in their lives at that moment (that's what it's for, right?), but is there an acceptable limit to how many bikini photos one can upload to TwitPic without crossing some sort of line? I mean, three seems like a lot to me, but what about you?