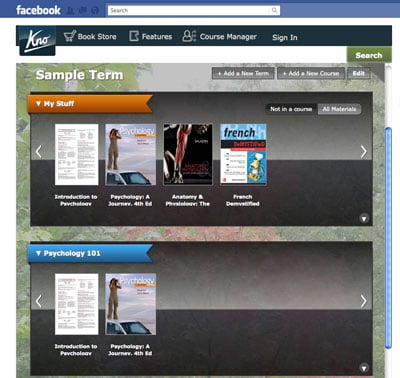 Reading digital books just got easier even if you don't own an ereader, tablet, or smartphone. Today Amazon and Kno, a popular source for digital textbooks, launched web-based reading modes.
The Kindle Cloud Reader uses HTML5 technology to enable on- and offline reading through Safari and Chrome web browsers. Library and reading history are made mobile, as personal Kindle account information autosyncs when signed into a new device. For example, you can read A Wrinkle in Time on Chrome at your desk and then sign into the same page with an iPad when commuting home. Amazon expects Kindle Cloud Reader to be available on Firefox, Internet Explorer, and the BlackBerry PlayBook in coming months.
Recognizing students spend a good chunk of their digital time on Facebook, Kno introduced textbook access through Facebook as well as all web browsers. Naturally, the Facebook app includes social elements like direct posting of textbook questions to the newsfeed. The excuse for not completing an assignment because of pets chewing up a book is a little harder to pull off now.