Kindles and iPads Banned From Restaurants and Coffee Shops
Geek Out: Are Ereaders Acceptable at Restaurants?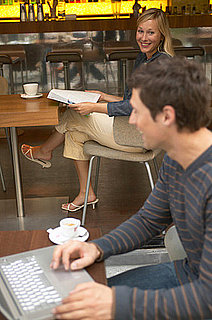 With the increasing presence and diversity of gadgets — from netbooks to tablets to smartphones and ereaders — it's hard to peg them into any one category. I don't think an iPad counts as a computer, but I'm sure that others feel differently (Yankee Stadium officials, for example). But when one New York Times writer was told he couldn't use his Kindle at a coffee shop, he was first confused, then angry — and I don't blame him!
See what I have to say about this and share your own opinion after the break.
The coffee shop in question has a no-computers policy in effect between the lunchtime rush hours of noon and 3 p.m., presumably to clear space for the large customer turnover during those hours. And anyone who's scoured for a seat at a coffee shop or restaurant filled with the laptop-toting masses will probably agree. But should an ereader or iPad really count as a computer? If I'm eating dinner or enjoying a glass of wine alone, I often tote my Kindle — or an actual book — along to keep me company, and I've never had a problem. But recently, a friend was asked to put away her iPad as she read a book at the bar. The bartender's reason? A no-computer policy.
So, where do you stand on this issue? My feeling: if it lies flat like a book but happens to be an iPad or Kindle, what's the harm? Unless the bar or restaurant in question is too crowded to sit and read a book alone at the bar, doing the digital version of the same thing should be no problem. What do you think?