Kinect Adventures, Kinect Sports, Dance Central, Your Shape Fitness Evolved Review
Kinect Review Pt. 2: The Games
Welcome to part two of my Kinect review, where we take a gander at some of the available games for the Kinect system. I was able to test out a half dozen during my time with the Kinect, so let's dive right in as I take you through what each game is about and rate them to help you decide if they're worth your dough.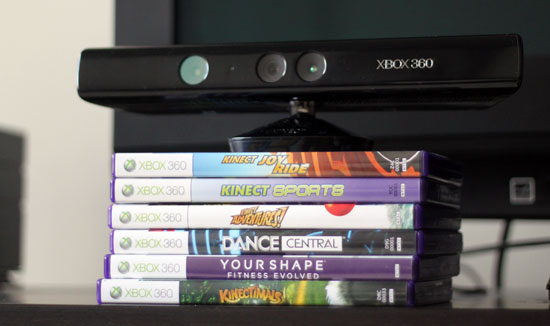 Kinect Adventures
Coming stocked with every Kinect bundle, you're going to kick off your Kinect experience on the right foot. Fun challenges have you moving your feet (and body!) side to side to avoid obstacles, rafting down a river, jumping up and down, and all in all, having a fantastic time doing it. This game is a blast — no wonder everyone is getting a copy!

Hear about the rest of the games after the break.
Kinect Sports ($50)
Kinect Sports is what Wii Sports is to the Nintendo gaming system and, for this reason, is probably going to be everyone's favorite. Not only are the sports tournaments, minigames, and head-to-head games totally fun but not having a controller in your hand makes it all the more lifelike. Look for your possible favorites in volleyball, track and field, and bowling.

Joy Ride ($50)
Look ma, no controller! With Joy Ride, you get to take to the track for fun races, time trials, tricks and stunts, and head-to-head battles, all while using your hands as the controller. Just hold your hands up like you would on a steering wheel, and you're off! I was pretty impressed by the responsiveness of the cars, but sometimes things got a little hairy when you take hard corners and windy roads. Overall, a great racer that's fun for the beginner and challenging enough for the racing enthusiast.

Kinectimals ($50)
Perfect for the younger set (and maybe even serious animal lovers), Kinectimals is adorable but is surprisingly involved. Other "pet" games may have you caring for your dogs and cats, but this title is a bit reminiscent of an RPG in a way, since the more trained and social your adopted kitty is, the more the world is opened up to you to explore. I'm sure PetSugar would approve.

Dance Central ($50)
Hands up. When the music drops, we all put our hands up . . . but only if the moves allow! Dance Central is what you get when you take DDR into present day. No need for awkward dance pads or manic music — just follow the steps, and the Kinect will track your movement accuracy while you step to current and hit songs. Although the beginning levels are pretty darn easy, when you start getting into the expert modes, you will break a sweat.

Your Shape: Fitness Evolved ($50)
I've been pretty stoked to see what Your Shape could really do for the future of exergaming, and I have a feeling that things are about to get pretty sweaty up in here. Not only do you get a personalized fitness program based on your skill level, but the Kinect actually senses where your joints are to give you proper form tips while you're playing. Add in special martial arts and weight loss classes led by actual celebrity trainers, and you have yourself a pretty amazing fitness game that really isn't a game at all.

As I said in part one of my review, it's obvious that Microsoft is targeting the family and casual gamers with the Kinect, so I thought I'd put it to the test with my own family. Take a look through the gallery below and hear what they had to say about the Kinect and their favorite games.