Kinect Star Wars Video Game and Other Movies on Xbox Kinect
5 Movies We'd Like to Play On Kinect
Our long wait for the Kinect Star Wars game is finally over! Landing on store shelves today, non-Jedis can now use the Force to battle Darth Vader himself, fly through pod races, and dance the Clone War battles away in groovin' competitions.
After months of waiting, we're excited for the motion-based Star Wars game, but it has us wondering what other movies would make thrilling Kinect games. We're adding these movies to our Kinect dream list; what movie would you like to play a part of in Kinect?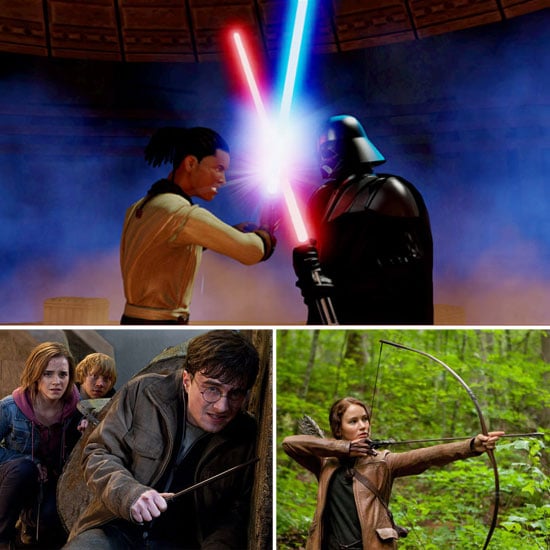 Harry Potter — There's an amusement park in Florida and a studio tour in London, but for fans that can't travel to these destinations, casting spells and vanquishing Dementors the Kinect way would be just as wizardly.
The Hunger Games — A story with the premise of adolescents killing other adolescents as part of a nationwide reality TV show is disturbing, and any video game would be just as gruesome to imagine. However, just the talents exhibited by Katniss, like archery and hunting, could make for interesting interactive role-play.
Lord of the Rings — Enter Mordor? No problem in Kinect form! If you've read all the books and obsessively watched all the movies, a Kinect game of the hobbits' journey is the last step in a complete Middle Earth adventure.

See two more movies we'd like to play on Kinect after the break.

Game of Thrones — The show is back and to feed our excitement, we're daydreaming of an interactive game. How about a game with perspectives from both the King's army and the North?
Top Gun — Tom Cruise at his action best; imagine the adrenaline rush of flying through the skies as a Top Gun pilot. Plus, you know Kenny Loggins' "Danger Zone" would be the '80s throwback tune powering your ride.

Photos Courtesy of: Lionsgate and Warner Bros.