Know Your Meme Lists Hilarious Internet Memes
Website of the Day: Know Your Meme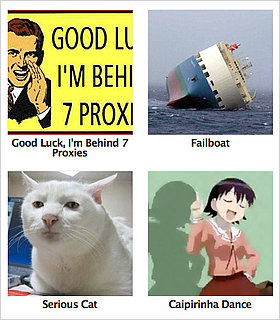 Every other day I see something so hilarious that I have to post it on Twitter, Facebook, and Gchat and send it to any friend who might be left out of the sharing action. As funny as these Internet memes are, they seem to disappear from memory as quickly as they appear. Know Your Meme is a site dedicated to cataloging these items and making sure you don't forget these hilarious Internet content gems. It's a great place to visit memes of yore, but also to discover anything you might have missed. Case in point: I just spent 15 minutes laughing hysterically at Snookieshop [sic], a blog of Photoshopped images featuring Jersey Shore's Snooki.
Content is categorized by topic and is labeled if it's been recently updated or deemed NSFW. Just a warning — the site is so full of hilarity, you could lose a few hours just looking around.
Do you have an interesting website you want to share? Create a PopSugar Account or log in to your account. Then join the Website of the Day group, where you can post your favorite website! And you never know, it could be featured on GeekSugar! Here's a detailed guide to posting questions or posts to groups if you are new to the PopSugar Community.