Kodak Playfull and PlaySport
Kodak Introduces Second-Gen Playsport, First-Gen Playfull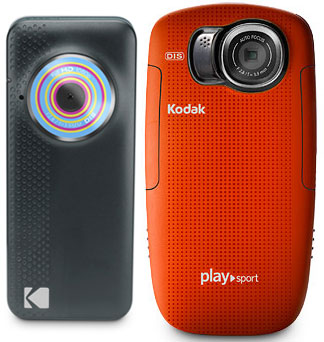 My feelings for the Kodak Playsport have been well-documented. Not only can you take this pocket cam almost anywhere (even in super rugged conditions) but you can shoot up to 10 hours of HD video! And, well, the affordable price doesn't hurt either.
Announced before the CES show floor opens, Kodak ushered in a new generation of Playsport camcorders and even added in a little something extra. Called the Playfull, this pint-size camcorder is small — so small you might forget you even have it in your pocket. It's like the iPod Nano of Kodak camcorders. Taking full 1,080p videos and five MP stills (with expandable memory up to 32GB), you can capture videos and email them to your YouTube, Flickr, Facebook, and Twitter accounts (among others), and connect right to your computer using the built-in USB arm. Look for the Playfull to hit shelves in March for $150.
Want the skinny on the second-gen Playsport? Find out more after the break.
The latest edition of the Playsport is as rugged as the first — shock-, dust-, and freeze-proof, and shoots HD video in up to 10 feet of water. You can crop and trim five MP images right on the Playsport with a built-in editor, while face tracking, auto focus, and better low-light performance ensures your videos and pics are in tip-top shape. The Playsport also shares with your various social networks and comes with four built-in picture effects — sepia, 70s, high saturation, and black and white — to cash-in on the mobile photo app craze. You can grab the Playsport starting this Spring for $180.
I guess the big question is — why do you need a camcorder anyway? You have your smartphone, right? Well, you can't film underwater with your smartphone, and I'm pretty sure if you dropped it on some rocks while hiking, your iPhone 4 would shatter into pieces and freeze up in the snow. Just sayin'.