Kodak Playfull Waterproof Digital Camcorder
Kodak Playfull Camera Is Big on Fun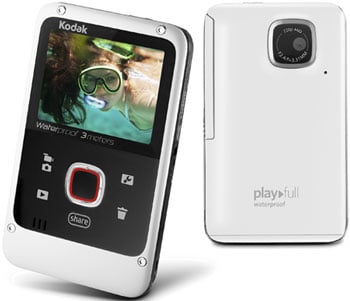 While this would've been perfect for tropical Summer getaways, Kodak's new Playfull waterproof video camera has us itching to plan a new island vacation as an excuse to put its waterproof function to the test.
The just-announced gadget packs 720p HD video quality in its four-inch, pocket-size frame and withstands up to 10 feet under water for up to two hours. Included camera effects are black and white, sepia, high saturation, and a '70s-style lens. Unfortunately, still shots are only captured at a 1MP resolution.
The camera's Share button automatically uploads content to top social networking sites when connected to a computer. Look for the Playfull in stores this month in black for $120 with a 4GB SDHC memory card and in red and white for $100 without the SDHC card.