Koostik Handmade Wooden iPhone Dock
Go Au Naturale With the Koostik iPhone Dock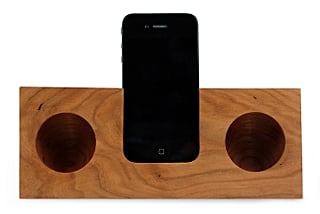 Though plenty of pretty wooden gadget accessories exist, this item is my hands-down favorite of the holiday season. Behold, the gorgeous Koostik, a completely wooden iPhone dock that acoustically amplifies the volume of your music two to four times. While it's not meant as a replacement to electronic amplifiers and docks, the Koostik is perfect for your workspace, counter, or any other place you'd like to listen to music (or even take a call via speakerphone) a little louder than your phone permits.
The Koostik was crafted by a long-time woodworker, who still makes each Koostik by hand. It comes in six different wooden combinations: Cherry, Walnut, Maple/Cherry, Cherry/Walnut, Walnut/Cherry, and Maple/Walnut, and retails for $85-$90 depending on materials. It's made to work with all generations of the iPhone, but sadly wont' work with your iPod Touch.
Check out more photos of the Koostik after the break.