The LG Remarq Eco-Friendly Cell Phone
LG Goes Green With the New Remarq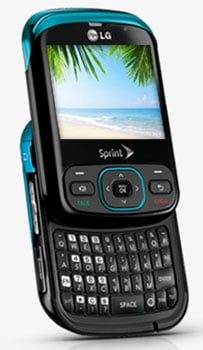 Although it doesn't come with a solar-powered battery, the new LG Remarq is pretty eco-friendly in its own right. Announced today at the CTIA wireless conference in Las Vegas, the LG Remarq will hit stores on May 9 (free, after $70 worth of rebates) and has a few Earth-saving attributes: the outer casing of the handset is made from 19 percent post-consumer products, while 87 percent of the device is fully recyclable. It's Energy Star certified and low in PVC and BFRs, and the outer and inner tray packaging is made of 87 percent and 100 percent post-consumer materials, respectively, along with being printed with soy-based inks.
Additionally, LG has traded in its paper manuals for online versions, and the Remarq comes bundled with an Eco Calculator, so you can figure out how much CO2 you'll be saving by walking or biking to work instead of driving your car.
To see what other features come stocked with the Remarq, just
.
The LG Remarq can access your Facebook and Photobucket accounts in a flash, while the sliding QWERTY keyboard helps you (sensibly) message your pals with ease. Plus, Sprint is offering a buyback credit program (credits range from $5-$300) so your phones can be recycled responsibly, and you can get some cash back for doing good.