Lady Gaga Named Polaroid's Latest Creative Director, Will Make an Appearance at CES
Lady Gaga For Polaroid? Ooh La La!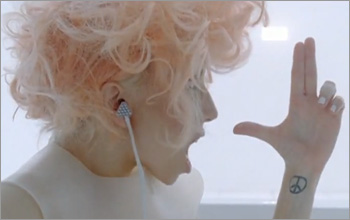 As if I needed another reason to talk about Lady Gaga, it turns out she's planning to become quite the regular in the tech scene. In addition to last year's collaboration with Beats by Dr. Dre to produce the in-ear headphones seen in her "Bad Romance" video, she's the newest creative director for Polaroid! The film and camera company just announced she'll be serving as creative director for a specialty line of Polaroid Imaging products. She'll be speaking on behalf of the company at CES on Thursday morning. "Lifestyle, music, art, fashion: I am so excited to extend myself behind the scenes as a designer, and to as my father puts it — finally, have a real job," she said in a press release.
Speaking of Beats by Dr. Dre, Billboard magazine is reporting that Lady Gaga will also be making an announcement related to the line of headphones. A new design, perhaps? While spokespeople for the trade show say she's not scheduled to perform, I'm hoping that she characteristically surprises us with a performance!