Laptop Tech Bag From Invite.L.
The Slim Bag-In-Bag Stores Your Tech, Gadget Essentials
The most inconvenient part about being a geek is the sheer number of gadgets and tech essentials that we carry around every day. Keeping them all organized and safely stored in just one bag can be fairly tricky, and let's face it — it's hard to find a chic tech bag that you'd carry daily. Unless, of course, you have the Slim Bag-in-Bag ($29) from Invite.L, which fits into just about any bag, converting your favorite purse into an instant gadget carry-all when you need it.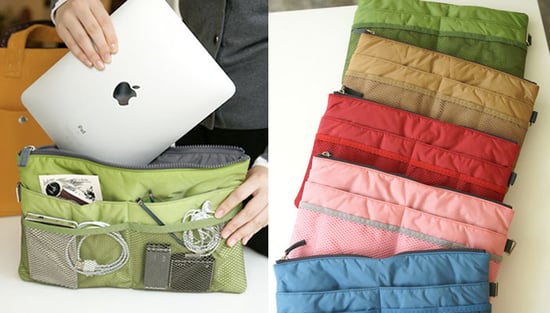 Coming with a padded center pouch to hold your tablet or ultrabook, and 13 pockets to store your camera, phone, cords, cables, external hard drives, and whatever else you carry around with you, it's pretty much the perfect tech accessory for geeks on the go. This would make a fantastic addition to your carry-on, but can be a lifesaver for daily use. And since the Bag-in-Bag comes in 10 different hues, there's definitely one to complement your favorite bag.